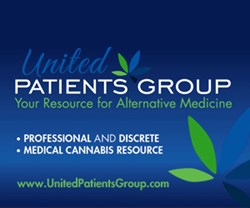 ...children with other diseases—especially cancer—need THC.
San Francisco, CA (PRWEB) February 05, 2014
New medical cannabis legislation has recently been introduced in Pennsylvania, Alabama and Utah. But unlike the twenty states(and Washington, DC) that allow medical cannabis use, this legislation is incredibly narrow in focus: It would only permit the use of one strain of cannabis known as Charlotte's Web, recently renamed in some circles Alepsia. This particular strain is very low in THC (Tetrahydrocannabinol), the psychoactive compound of medicinal cannabis, and high in CBD (Cannabidiol), a compound shown to help with seizures in epileptic patients.
John Malanca, founder and owner of UnitedPatientsGroup.com, says that although it's great to see increased support for this important strain, legislation that divides medical cannabis into the categories of "good" cannabis that doesn't get people high and "bad" cannabis that does ignores the many proven medical benefits of THC and threatens patient choice.
"As great as it is to see support for this valuable medication come from unexpected places (Utah?!), let's not forget that high-CBD cannabis is not the only kind that helps sick children. Many parents have found that they have to play with THC levels to reduce seizures in their epileptic children," Malanca explained in a recent blog post. "And children with other diseases—especially cancer—need THC."
THC has been shown to damage and even kill cancer cells, and it also helps chemotherapy patients recover their appetite. The parents of Cash Hyde, a toddler with brain cancer, were amazed by the life-saving effect of cannabis oil on their little boy. He eventually succumbed to the cancer when they lost access to this lifesaving medicine. They founded the Cash Hyde Foundation to honor his life and spread the word about the incredible benefits of medical cannabis for juvenile cancer.
"The new cannabis legislation will not allow the kind of cannabis that helped Cash Hyde; its definition of "good" medical cannabis is too narrow." noted Cash's dad, Mike Hyde.
"Instead of dividing medical cannabis this way, we need legislation that recognizes the value of many strains of cannabis with varying levels of both CBD and THC. It is discriminatory to focus on one component when both have a dramatic effect on diseases" he stated. "What's best for patients is legal access to a wide array of strains and extracts."
For more information about this issue, visit http://www.unitedpatientsgroup.com/blog/2014/02/04/by-endorsing-high-cbd-cannabis-new-legislation-will-do-more-harm-than-good/ or call (415) 524-8099. For updates on the unfolding legislation, follow United Patients Group on Twitter.
About UnitedPatientsGroup.com
UnitedPatientsGroup.com is a discreet, safe, and professional online medical cannabis information resource for prospective and current patients, caregivers, and medicinal cannabis industry professionals.
While most online medical marijuana sites cater to patients already familiar with medical marijuana, the UnitedPatientsGroup.com website is a comprehensive and easy-to-use information source for people of all ages and experience levels, from novice medical cannabis users to experienced industry professionals. The site's News, Resource, and Blog pages introduce new patients to the ins and outs of medical marijuana healthcare, while helping experienced providers stay abreast of the latest developments in THC and CBD therapies.
A complimentary Five Star-rated United Patients Group medical marijuana app is available on the iTunes app store for iPhone 3GS, iPhone 4, iPhone 4S, iPhone 5, iPod touch (3rd generation), iPod touch (4th generation) and any iPad.