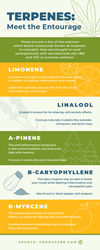 CBD Hacker wants to help people understand what each compound is thought to do, so that they can make educated decisions about which products are right for them.
BOARDMAN, Ohio (PRWEB) January 27, 2019
CBD Hacker, the definitive guide to the CBD industry, has released an infographic that introduces some of the terpenes that are most commonly found in CBD products.
Terpenes, or terpenoids, are compounds that give many plants their distinctive flavors and aromatic qualities. In the natural world, they're found in everything from lavender to black pepper, and citrus fruits to pine trees. And some manufacturers produce synthetic versions to use as scent and flavoring agents in food and other products.
When it comes to cannabis, more and more precise analytics are becoming the norm. As a result, a broader picture is emerging of the chemical components that are responsible for the distinctive traits of each cultivar.
Not limited to the main compounds of CBD and THC, or even the composition of other cannabinoids, terpenes may play a vital role in the therapeutic applications of different varieties of medical cannabis and hemp.
"Within the CBD and medical cannabis industries, there's a lot of buzz around terpenes. People are excited about the potential health benefits, and the ways that they could support CBD through the entourage effect," said Meg Kramer, CBD Hacker's managing editor. "But the market for CBD is growing rapidly, and many people who are just beginning to learn about CBD find all of the chatter about terpenes confusing."
"We set out to introduce some of the most common terpenes that consumers will encounter in CBD products. We want to help people understand what each compound is thought to do, so that they can make educated decisions about which products are right for them."
This infographic is the second in a series that will break down industry terminology in a clear, easy-to-understand way. It addresses some of the health and wellness benefits that are traditionally associated with each compound, as well as common plant sources aside from cannabis. The specific terpenes listed in the infographic include:

Limonene
Linalool
A-Pinene
B-Caryophyllene
B-Myrcene
The full infographic is available for viewing and download at this link: https://www.cbdhacker.com/terpenes-meet-the-entourage-infographic/