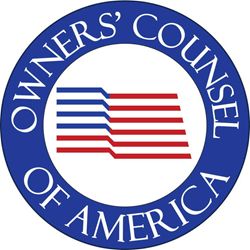 [A]n "out-and-out plan of extortion" forced upon citizens is just as repugnant when imposed by the legislature as when it is carried out by a government agency.
Jacksonville, FL (PRWEB) October 22, 2015
The Owners' Counsel of America and the National Federation of Independent Business have filed an amici curiae brief with the United States Supreme Court urging the protection of private property rights from overreaching government regulation. The brief requests the Court agree to review the California Supreme Court's decision in California Building Industry Association v. San Jose, No. 15-330 (September 16, 2015).
This case arises from a challenge brought by the California Building Industry Association (CBIA) to the City of San Jose's Ordinance No. 28689 in the Superior Court of the County of Santa Clara. In California Building Industry Assoc. v. City of San Jose, Case No. 110CV167289, CBIA challenged the validity of Ordinance No. 28689 which presents developers of residential projects with more than 20 units a choice: either designate 15% of those units for sale at below-market prices to buyers with qualifying income levels, or construct affordable housing at a different location, donate land to the City, or pay a fee.
The trial court struck down the ordinance concluding that the ordinance is an "exaction." The court further found that the City had not first undertaken the required studies to show that builders of new homes are responsible for the shortage of affordable housing in Silicon Valley. ("Order Granting Plaintiff's Request For Temporary, Preliminary, and Permanent Injunctive Relief," p. 6.)
The California Court of Appeal, however, upheld the ordinance, concluding that it was not subject to these requirements. California Building Industry Ass'n v. City of San Jose, 216 Cal.App.4th 137 (6th District June 6, 2013). The court concluded that because the ordinance did not require a developer to give up land, or money in lieu of land, it is a zoning restriction and subject to the "rational basis" test, and not requiring heightened scrutiny of the U.S. Supreme Court's exactions tests. (Cal. App. Op. at 11.) The California Supreme Court agreed, holding that the purpose of the City's requirement is to promote affordable housing, not to mitigate the impacts of market priced housing, which is an exercise of San Jose's police rather than a development "exaction." (California Building Industry Association v. San Jose, No. 15-330 (September 16, 2015) at p. 34).
Speaking on behalf of amicus party Owners' Counsel of America, OCA Hawaii Member Robert H. Thomas explained the amici brief argues that the City's zoning ordinance should have been subject to the heightened scrutiny of the unconstitutional conditions doctrine established by the U.S. Supreme Court decisions Nollan, Dolan, and Koontz.
"The Supreme Court held in Nollan, Dolan and Koontz that before the government can condition permission to build on the developer providing certain benefits, the government must show that what the developer proposes to build contributes to the problem, and that the condition imposed is both proportional and will mitigate that impact," stated Thomas, a Director with Damon Key Leong Kupchak Hastert in Honolulu and a contributor to the NFIB-OCA brief.
The amici brief filed by the NFIB and OCA urges the Court to review this private property rights case. Amici contend that San Jose is not simply regulating private property, but has effectively pressed it into public service to alleviate the city's critical need for affordable housing. While the ordinance does not demand the outright dedication of land, it does require the owner to set aside a certain number of units at below-market value essentially requiring those units to be dedicated to public use.
"OCA joined with NFIB in filing a brief supporting CBIA because we believe that this case provides an opportunity for the Court to clarify that legislatively imposed exactions are subject to review under unconstitutional conditions doctrine," said Thomas. As the brief suggests, "an 'out-and-out plan of extortion' forced upon citizens is just as repugnant when imposed by the legislature as when it is carried out by a government agency."
The Owners' Counsel of America (OCA) is a nationwide network of experienced eminent domain attorneys dedicated to protecting the private property rights of landowners large and small, locally and nationally, and to advancing the cause of property rights. The lawyers affiliated with OCA practice in nearly every state and represent property owners against federal, state, and local governments, utilities, transportation and redevelopment authorities and other entities that may be armed with eminent domain power. For more information or to locate a condemnation lawyer in your state, please visit http://www.ownerscounsel.com.