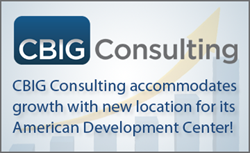 it's a winning combination, financially, logistically, and economically.
Chicago, IL (PRWEB) September 12, 2016
Global Big Data analytics group CBIG Consulting announced the firm is taking its growing on-shore consulting arm, called the American Development Center, to Chicago this week. As of September 1, 2016, CBIG's ADC officially joins the ranks of innovators in Chicago's burgeoning technology landscape at 8700 West Bryn Mawr Ave, Suite 820N, Chicago, IL 60631.
Co-founder Don Arendarczyk said, "We remain committed to cultivating and growing ADC into a more professional, competitive on-shore alternative to offshore software development efforts." He added that ADC, like most tech incubators, was always meant to be a work in progress that can adapt to changing requirements. "Toward that end," Arendarczyk stressed, "this move to a more upscale, accessible environment is another step in ADC's evolution, accommodating steady growth, accessing top talent, fostering new innovations, and developing staff with strategies that promote both project success and individual achievement."
A key factor in ADC's model involves pairing low level staff with senior team members to gain experience in consulting, advanced technology solutions, and project delivery methodology. "On the client side," Arendarczyk continued, "it's a winning combination, financially, logistically, and economically. Together, we're solving the problem of doing more with less, we're driving down the cost of U.S.-based technology projects, and we're creating rewarding analytics jobs for college students and young adults in the U.S."
John Huffman, CBIG's Vice President driving ADC's progress, said, "Our goal was to create a contemporary, less formal environment that encourages and rewards team-building and ingenuity. It goes without saying we also want to serve and retain happy, motivated staff—our new location offers all of the amenities to do just that." The Chicago Transit Authority's Blue Line nearby ADC's new location is a short walk for city dwellers and also provides a direct airport stop for people flying into O'Hare International Airport. Major expressways, including 90 and 294, are also easily accessible.
About CBIG Consulting:
CBIG Consulting is an international team of experts in Business Intelligence, Big Data Analytics, Data Warehousing, and Cloud-based Analytics platforms. Named a top BI and Big Data consulting firm by independent research organizations and publications, CBIG's management consultants, business analysts, data scientists, architects and engineers are seasoned professionals dedicated to the analytics space. CBIG works with global enterprises, mid-size businesses, and non-profit organizations in solving mission-critical reporting and analytical needs. CBIG is headquartered in the Chicago area and has additional offices in San Francisco, Boston, Denver, Austin, Raleigh, Irvine and Seattle in the U.S.; Sydney, Melbourne, Auckland and Singapore serving the Asia-Pacific region; and London serving the EMEA region. For more information, please visit http://www.cbigconsulting.com.