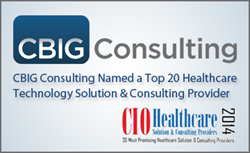 Chicago, IL (PRWEB) November 03, 2014
CBIG Consulting's innovations in healthcare analytics have earned this international Big Data analytics / business intelligence firm a prominent place in the October 2014 issue of high-tech trade publication CIO Review, which names CBIG Consulting among its top 20 most promising healthcare technology solution and consulting providers.
According to John Onder, Co-founding Principal of CBIG Consulting, CBIG's health care analytics solutions were conceived early on to take advantage of significant changes and reforms stemming from the Affordable Care Act and the government mandate calling for the creation of individual electronic health records. Onder added, "We knew that incompatible, inaccessible medical data systems would be the biggest issue by far. We had to find a way to integrate that data into the larger data picture for healthcare providers. From both a strategic and a logical perspective, our expertise in creating common information repositories and business intelligence frameworks within other industries served as a model for our healthcare practice and gave us a pretty big head start."
Working directly with providers and administrators to modify processes, CBIG's advanced solutions focus on integrating various systems into functional healthcare analytics platforms. Onder noted that CBIG has seen subsequent gains in market share involving its healthcare business intelligence and Big Data analytics solutions. He added, "The ultimate goal is to obtain more accurate insights and maximize the potential benefits from all of the current available data—with best practice integration processes and BI tools—as a way to advance better healthcare delivery for all of us."
About CBIG Consulting (CBIG):
CBIG Consulting is an international team of experts in Business Intelligence, Big Data Analytics, Data Warehousing, and Cloud-based Analytics platforms. Selected by several independent research firms and publications as a leading BI and Big Data analytics consulting firm, CBIG consultants average fifteen years of direct experience in the field. CBIG works with global enterprises, mid-size businesses, and non-profit organizations in solving mission-critical reporting and analytical needs. CBIG is headquartered in the Chicago, IL, area and has additional offices in San Francisco, Boston, Denver, Austin, Raleigh, and Seattle in the U.S., and Sydney, NSW, Australia serving the Asia-Pacific region. For more information, please visit http://www.cbigconsulting.com.