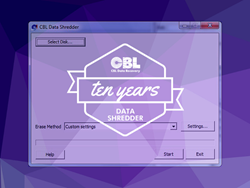 ...Data Shredder holds an even greater relevance in today's world than when it was first introduced into the market 10 years back, which explains why the unaltered app has continued to experience a steady, ongoing demand.
Duluth, GA (PRWEB) January 28, 2015
CBL Data Recovery is excited to announce the 10 year anniversary of one of its most widely adopted data solutions- CBL Data Shredder. First released in Germany back in March of 2005 and then shortly after in the U.S. (June), Data Shredder is a free app used to securely remove the data from one's hard drive without leaving a trace. Leading provider of data security and recovery solutions, CBL Data Recovery designed the tool to utilize overwrite methods to prevent any data from being left behind, as well as avert advanced extraction techniques from being able to restore the data for access.
With the ever increasing amount of data being produced in the world, compounded by recent data security attacks, revelations about security agencies surveilling personal data, and the growing amount of information being shared and accessed on a global scale, the need for data security is more critical than ever before. In turn, the Data Shredder holds an even greater relevance in today's world than when it was first introduced into the market 10 years back, which explains why the unaltered app has continued to experience a steady, ongoing demand.
CBL discovered the growing need for secure data erasure through its efforts to recover its customers' data. CBL Germany lab directors commented, "In conjunction with the escalating amount of data produced, hard drive storage capacity has increased to meet the growing need– driving the price per gigabyte down. This has resulted in a lot more data being stored on people's hard drives that needs to be protected and erased. We created this free tool to enable users to remove their data thoroughly and effectively, and we're thrilled that after ten years it's still accomplishing that same mission!"
The application's global interest has brought it extensive media coverage over the years, including from tech outlets that featured the product as a useful utility for individuals and businesses alike. The low-level hard drive formatter wipes disks clean to ensure secure data erasure. Unlike many other commonly employed data removal methods such as degaussing or physical media destruction, which can leave deleted data vulnerable to recovery and theft, Data Shredder can aid in preparing a user's hardware to be confidently re-used, recycled or re-sold.
As a result of cyberattacks and data theft becoming increasingly prevalent–enabling criminal offenses such as identity theft and corporate espionage, governments along with corporations have been forced to take measures to protect their entities and reputation, setting new policies, standards, and protocols for managing data.
CBL Data Shredder meets the industry wide standards currently in place, including those recommended by major government and security organizations. Specifically, the application meets the guidelines put forth by the National Industrial Security Program (NISP), which is the U.S. authority on how classified information is managed in private industries. Procedures and requirements are laid out in an operating manual, the Department of Defense 5220.22-M, to regulate government contractor handling of sensitive data. In addition to the NISP and algorithms formulated by highly renowned computer scientists and cryptographers Peter Gutmann and Bruce Schneier, the tool also meets the wiping standards established by the Canadian RCMP and Germany's Office for Information Security (BSI).
Since its inception, CBL Data Shredder has seen hundreds of thousands of downloads, with consistent interest and usage still to this day. The widespread need for secure data removal is greater than ever with the vast amount of data created, stored, and shared across the internet–and still growing at an exponential rate.
CBL Data Shredder is currently available in two versions: one for modern versions of Microsoft Windows and one that comes in the form of a downloadable disk maker for portable media like CDs, DVDs or floppy disks that enables users to boot their systems. For more information about CBL Data Recovery or its free Data Shredder application, please visit CBLDataRecovery.com/data-shredder/. Download the CBL Data Shredder app now–free of charge, at: http://www.cbldatarecovery.com/data-shredder/download.
About CBL Data Recovery:
Established in 1993, CBL Data Recovery is a leading international provider of computer data recovery services for clients experiencing data loss due to hardware failure, natural disaster, software corruption, virus contamination or human error. CBL employs proprietary techniques to recover data quickly and effectively from a wide array of media including hard drives of laptops, personal computers, servers, RAID arrays and SAN/NAS systems, tapes, and other magnetic or optical media. CBL offers services through its global network of data recovery laboratories, customer service centers and authorized partners.