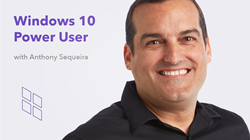 EUGENE, Ore. (PRWEB) January 07, 2019
CBT Nuggets announces the release of a new online video training course, Windows 10 Power User.
During this 24-video, intermediate-level course, CBT Nuggets trainer Anthony Sequeira focuses on how to use the advanced features of Windows 10, the latest version of Microsoft's signature client operating system. Topics that Sequeira covers include advanced network troubleshooting, domain joins, and advanced security and storage techniques.
"This course is another huge step for learners interested in being as productive as possible. It also helps to ensure that learners have the best possible experience with the latest client operating system from Microsoft," Anthony stated.
This course is aimed at learners who have familiarity with Windows 10 and is designed to help them build on their foundational knowledge of the operating system. Learners can achieve this initial level of experience with Windows 10 with the CBT Nuggets course Using Windows 10.
Sequeira has been a CBT Nuggets trainer since 2012 and holds a variety of Juniper, Cisco, Microsoft, and AWS certifications. He is also a CCIE in Routing and Switching. His earlier networking courses here at CBT Nuggets continue to be some of the top-rated courses in the library.
Windows 10 Power User is available as part of a CBT Nuggets subscription. Subscriptions are available for individuals or teams, and can be paid monthly, semi-annually, or yearly.
About CBT Nuggets: CBT Nuggets provides on-demand IT training for individuals and teams that is available 24/7, from any device.