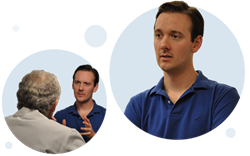 With fast-track funding from NIAAA, SIMmersion will create an expansive CBT training course
Columbia, MD (PRWEB) January 29, 2015
For individuals struggling with substance use disorders, challenges to a goal of sobriety can come from unexpected sources. Cognitive-Behavioral Treatment (CBT) is a proven method counselors can use to help their clients build the specific skills they need to get through those moments of crisis. SIMmersion, LLC announces the development of a new virtual reality course that will help more providers become more proficient in CBT more quickly than ever before, with positive results for the tens of thousands of people struggling with substance use disorders nationwide.
What is Cognitive-Behavioral Treatment?
When it comes to substance use disorders, thoughts, feelings, expectations and behaviors all combine into patterns that can keep a person locked in addiction. CBT helps people break those patterns by instructing them in new skills and helping them learn to look at situations in new ways.
CBT involves many sessions over time to help clients learn how to reconceptualize their thinking in ways that discourage substance abuse and make the coping skills they need to weather emergencies become second nature. To master presenting so many skills to clients, counselors need extensive practice and feedback, which can be prohibitive in terms of cost or training time. This need for convenient, effective, low-cost training in CBT is the need SIMmersion's technology will be able to fill.
SIMmersion's Training System
With fast-track funding from the National Institute and Alcohol Abuse and Alcoholism (NIAAA Grant# R44AA023719), SIMmersion will create an expansive CBT training course with six independent training modules to provide practice and coaching in six key CBT domains: Information Gathering, Identifying Triggers, Coping Skills, Drug-Refusal Skills, Planning for Emergencies, and Seemingly Irrelevant Decisions.
The flexible structure of the course will allow users to train with the six domains in any order, focusing on the clusters of skills that are most interesting or relevant to their practice. Each module will include learning content informed by leading CBT subject matter experts, interactive exercises, and an immersive virtual reality conversation with a simulated patient, portrayed in video for maximum realism.
SIMmersion's PeopleSim® conversation engine powers encounters with virtual patients that never play the same way twice. Characters have a wide range of responses to every user choice, variable personalities from play to play, and an advanced emotional model that reacts in real time to what users choose to say. An on-screen coach, color-coded transcript and comprehensive scoring screens provide users with the immediate feedback they need to build skills over time. Because the modules vary with each play, users can get the repeat practice to make their CBT skills second nature, setting them up for success when they speak to patients in the real world.
"We're proud that our technology is already helping health care providers worldwide improve their skills in motivational interviewing, screening and brief intervention, and pain management," says Dale Olsen, Ph.D., President of SIMmersion. "This system on Cognitive Behavioral-Treatment is an exciting new way that we can help providers give their patients and clients the interventions they need to lead better lives." Currently in development, the CBT system will be released for public use in 2016.
About SIMmersion
SIMmersion's mission is to train communication skills faster and more effectively by combining the world's most realistic simulated experiences with highly interactive training content and extensive user feedback. For more information, contact SIMmersion online or at 443-283-2555.