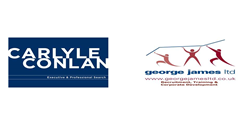 (PRWEB) April 03, 2015
Carlyle Conlan, a U.S.-based executive and professional search firm which focuses on North American life sciences, and george james ltd, a European-based firm offering expert services in recruitment, talent management and training, announce the release of the highly anticipated 2015 Life Science Trends white paper.
Each year, Carlyle Conlan and george james ltd. provide an overview of trends and innovations in the life science industry, encompassing its drugs, biologics, devices and diagnostics sectors. Utilizing a number of in-depth, premium research reports available in the industry, Life Science Trends 2015 summarizes and presents a variety of the most up-to-date industry news under several macro headers: Research and Innovation, Fundamental Trends, Investing and Deal Making, Regulatory and Government, and Healthcare. The result is a meaningful, "quick-read" white paper into which topics our clients, partners and constituents can dig deeper based on their individual interests.
Life Science Trends 2015 captures significant advances in the industry from the past year and makes observations about developments of interest through the year ahead. The featured articles "Personalized Medicine Comes of Age" spotlight outstanding industry luminaries to help us better understand where the field is now and - where it is headed. Those industry luminaries include:

Dr. Darrin Disley, CEO at Horizon Discovery Group
Peter Keeling, CEO at Diaceutics
Dr. Myla Lai-Goldman, CEO & President at Genecentric Diagnostics
Dr. Ralph Snyderman, Chancellor Emeritus at Duke University & James B. Duke Professor of Medicine at Duke University School of Medicine
Dr. Paul Beresford, Vice President of Business Development and Strategic Marketing at Biodesix
Life Science Trends 2015 can be viewed via the following link: http://bit.ly/LSTrends
About Carlyle Conlan
Carlyle Conlan, headquartered in the Research Triangle Park, is an executive and professional search firm focused on the life science, agriculture, and applied materials sectors. With a highly dedicated, experienced, and professional team of specialists, we work with small, mid-sized and large companies to secure their most important asset, human capital. Our placement focus is on highly experienced individual contributors through C-level search in a variety of functional position types throughout North America. More information about Carlyle Conlan can be found at: http://www.carlyleconlan.com
About george james ltd
george james ltd was founded in 1999 to provide a range of both standardised and bespoke recruitment and training service across Europe. As the network of contacts expanded, new services in corporate development were added in 2002.
Founded by two experienced and successful senior industry professionals with global experience across a range of industries now served, they had been frustrated by the level of service they experienced in both sales training and recruitment. As a result the principals' initial focus was to develop and continually optimize services to address the issues they had encountered. Both founders' own career success had been based on the simple understanding that nobody can advance his/her own career, and no company can maximize its success without recruiting, developing and keeping the best talent. Helping their customers achieve this is their core goal and specialization. Other successful, experienced industry professionals who share this vision have joined to strengthen and expand the team. More information about george james ltd can be found at: http://www.georgejamesltd.co.uk
Contact for Carlyle Conlan:
Don Alexander
dalexander(at)carlyleconlan(dot)com
+1(919) 424-1593
Contact for george james ltd:
Neil Burns
Neil.Burns(at)georgejamesltd(dot)co(dot)uk
+44(0)7977 988000