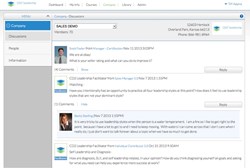 "It has been my dream for a very long time to get our basic philosophy and curriculum available to everyone," said Ken Blanchard, "Now, through CD2 Leadership, our Blanchard essentials are available to everybody."
Overland Park, KS (PRWEB) December 11, 2013
CD2 Leadership is proud to announce that Ken Blanchard's Situational Leadership® II (SL®II) content has been released in a web-based, asynchronous environment with a sustainable toolkit. This approach now makes the SL®II system available to every user. To accomplish this, CD2 Leadership has created an award-winning platform to help companies align around the same goals and outcomes.
The CD2 Leadership platform is a student-centered environment makes use of asynchronous learning concepts by offering its toolkit to foster interactivity amongst teams and inside entire organizations. CD2 Leadership allows for quicker and more efficient absorption of content compared to traditional classroom only models. "This means that companies can use the online toolkit and see faster direct application of concepts. We find that most people realize the value within the first two to three weeks," said Becky Sterling, CEO of CD2 Leadership.
The tools are focused on helping users develop themselves into leaders without any time constraints. This means that leadership development is no longer limited to the classroom or to higher levels within the organization. Every level in the organization is able to benefit.
"It has been my dream for a very long time to get our basic philosophy and curriculum available to everyone," said Ken Blanchard, "Now, through CD2 Leadership, our Blanchard essentials are available to everybody."
This marks the first time that SL®II and tools have been available in an online format specifically designed to provide reusable tools for every person in a company.
About CD2™ Leadership
CD2™ Leadership is for business leaders seeking to increase leadership and management capacity. We help create a common language that enables all employees to share leadership values and shape a corporate culture. We took world-class leadership development to the cloud and created an on-demand, moment-in-time environment. Scalability is finally delivered to workforces on the go or in multiple locations. CD2™ Leadership is a product of CD2™ Learning, headquartered in Overland Park, KS.
About CD2™ Learning
CD2™ Learning was started in 2008, with one goal in mind: to develop a scalable system that would allow companies to create and deliver innovative content in a new way. Combining both features of an LMS and CMS, CD2 challenged the status quo on its quest to offer companies in different industries a way to connect with their customers. The solution offered allows for maintaining the stability of intellectual property as well as giving old ways of delivery new life. CD2™ Learning is headquartered in Overland Park, KS.
Contact:
Tiffany Adams, Director of Marketing
402.261.8587
tiffany.adams(at)cd2leadership(dot)com