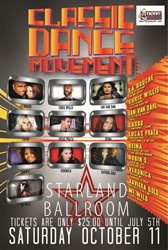 We couldn't be more excited to work on this tour," said Nene Musik's CEO Ruben Martinez.
Port Saint Lucie, FL (PRWEB) August 05, 2014
Come dance the night away at New Jersey's biggest dance party for commencement of the Classic Dance Movement Tour (CDM) on Saturday October 11, 2014. The first date of CDM Tour will be held at the legendary Starland Ballroom (an AEG Facility) located in Sayreville NJ. Shows will be hosted by the one and only Vic Latino and will feature live performances by Multi-Platinum International Artists: La Bouche, Chris Willis, Ian Van Dahl, Lasgo, Lucas Prata, Reina, Robin S., Veronica, Xaviera Gold, and Mi Wild.
"We couldn't be more excited to work on this tour," said Nene Musik's CEO Ruben Martinez. "All of these artists are extraordinary. Be prepared to sing and dance along with the talented artists on stage."
Youtube Link: https://www.youtube.com/watch?v=u1NgqKo5sNM&feature=youtu.be
This is a show you don't want to miss!
About La Bouche:
The original La Bouche consisted of Lane McCray and Melanie Thornton who together conquered the Pop music scene with landmark success. Producing chart-topping singles such as "Be My Lover" and "Sweet Dreams" peaking at #1 in several countries. They have also sold more than 10 million records worldwide and their music has been featured in several motion pictures. In 2001, original member Melanie Thornton passed away in plane crash while promoting her solo career. Today, La Bouche consists of original vocalist Lane McCray and Dana Rayne (who has been endorsed by Melanie Thornton's estate). La Bouche continues to perform for their wonderful fans around the globe and are recording a new album with a single to debut in 2014.
About Chris Willis:
Chris Willis was born and raised in Dayton, OH. He began singing in a quartet with his brothers and sisters at his local church. After graduating from college he toured with a gospel group that performed hundreds of gigs across California and contributed to the popular compilation Handel's Messiah: A Soulful Celebration. This superstar is The voice of David Guetta's worldwide hit singles "Just a Little More Love", "Love Don't Let Me Go", "Love Is Gone" and "Getting Over You".
About Ian Van Dahl:
Ian Van Dahl is an electronic dance music group from Belgium. AnnaGrace, whose real name is Annemie Coenen is the front lady of the group and until further notice - the only Belgian musician who defeated Moby in a direct contest. It all happened at the 2002 Top of the Pop-Awards where AnnaGrace won the much contested and desired Dance Award for the song "Castles In The Sky". The world press could not get enough of her quotes and all of a sudden everybody knew her name. Another hit single "Let the Feelings Go" reached number one on the Billboard Hot Dance Airplay Chart in 2009 and is one of their highest rated singles yet.
About Lasgo:
Lasgo, is a Belgian trance group founded in 2000. The group consists of Jelle Van Dael (vocalist), Peter Luts and Jef Martens (record producers). In 2008, the original vocalist Evi Goffin, was forced to leave the group and Jelle Van Dael took her place. When producer Peter Luts and TV station JIM went looking for a new singer for Lasgo, they never imagined finding such an amazing leading lady as Jelle van Dael. In only a few years, Jelle conquered the charts and managed to become a worldwide Artist and TV Host.
About Lucas Prata:
Lucas Prata's "And She Said…" was one of the top EDM records worldwide in 2005 with a combined radio listening audience of One Hundred Twenty Eight Million in the United States alone. Now, the original EDM Bad Boy of Dance is back! After taking a hiatus from recording and performing in 2009 to concentrate on his own record label Yo Pal! Entertainment and now Popnotch Music, he has been songwriting and promoting records for other artists with his newly formed promotions company Prata Promotions. Prata Promotions has worked with various international artist and is in full operation today.
About Reina:
Reina is a Dance/Pop singer-songwriter born in the Bronx, New York. She has been a backup singer for music artists such as Deborah Cox and Corina. She became an overnight sensation on the Dance/Club scene when "Find Another Woman" reached #2 on the Billboard Hot Dance Music/Club Play chart in 1998. In 2003, she scored her biggest hit on the Billboard Hot 100 when her single "No One's Gonna Change You" crossed over from the dance charts. In 2004 she garnered her biggest dance hit with "If I Close My Eyes" which went to #2 on Billboard's Dance/Mix Show Airplay chart and in 2005 scored another top 5 on the same chart with "Forgive".
About Robin S.:
A house diva whose productions use live instrumentation just as much as electronics, Robin S. debuted with the Top Ten hit "Show Me Love". The Queens, NY native was signed by Big Beat Records in 1993 and debuted with the hot single which climbed the charts during 1994 and spurred her first album, also titled "Show Me Love". After working on her songwriting for several years, she began recruiting producers such as Eric "E-Smoove" Miller and Todd Terry to work on her second album. Released in 1997 on Atlantic, "From Now On" reflected broader interests for Robin S., encompassing gospel and ballads in addition to hi-NRG dance floor material.
About Veronica:
Veronica got her big break when college classmate Lakei Strong heard her sing and brought her to the attention of Mercury Records. Shortly after the release of her critically acclaimed first album, "V As In Veronica" she ended her relationship with Mercury Records. She began to work towards finding a new deal and solidifying herself as an artist and songwriter. From her single "No One But You" she obtained a songwriter and recording artist deal with Jellybean Benitez. Veronica has had multiple singles on the Billboard Hot Dance Music/ Club Play Chart including her hits "Let Me Go (Release Me)", "Someone To Hold" and her cover of Evelyn "Champagne" King's song "I'm In Love".
About Xaviera Gold:
During college Xaviera studied Music Business and Arts Communication and worked as a disc jockey on the radio station WCRX. Later, she landed the position on Chicago's number one urban contemporary radio station WBMX as the first female "hot mixer" DJ with the "Hot mix 5" Disc Jockey team. Xaviera's mixes played on the air every week. Xaviera gave up DJ mixing in 1987 when she decided to start her music career. She recorded the international club anthem "You Used To Hold Me" (produced by Ralphi Rosario) which gave a new meaning to house music.
About Mi Wild:
Hailing from the land of Wildlandia (where music is the people's energy and way of life), Mi Wild has come to planet Earth to teach us the same. She plans to take her career on planet Earth to stratospheric heights. She is destined to become today's best electronic artist. Her new single "Party More" was produced by Dom Tufaro and Mike Licata Jr. of Tune~Adiks. It has an infectious electric beat that will make anyone want to dance. It will capture our radios, TV's and mobile phones as she embarks on a live tour to support the single with her galaxy bending vocals.
Be sure to buy your tickets at: http://www.axs.com/events/251376/la-bouche-chris-willis-ian-van-dahl-lasgo-lucas-prata-reina-robin-tickets?skin=starland
About Nene Musik Productions, Llc.:
Nene Musik Productions, Llc. (http://www.nenemusik.com) was established in 1989. Today, It is a boutique Artist Management and Consulting Agency that services Recording Artists, International DJ's and Celebrities. Dennis Rodman, Cascada, Mia Martina and Tune~Adik's Vic Latino are just of few on Nene Musik's client roster. Nene Musik's experience and commitment to excellence have earned them the reputation as one of the best Artist Management / Consulting companies in the World.
For Interviews contact: Alexandra Kulak – 01.772.807.8305 or promo(at)nenemusik(dot)com