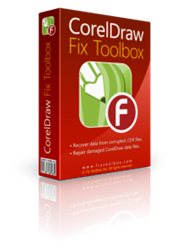 the ultimate CDR fix for Corel Draw image files damaged in different types of incidents.
Sacramento, CA (PRWEB) May 13, 2014
Fix Toolbox, a company known for its line of data recovery tools and deep expertise in the field of data analysis, is glad to announce the availability of the latest and the most advanced version of CorelDraw Fix Toolbox. The renewed program offers unmatched recovery speed and quality, largely thanks to its powerful core that was created from scratch by Fix Toolbox engineers, and countless tweaks and optimizations. http://www.coreldraw.fixtoolbox.com/
The program is a perfect solution for digital artists, publishing specialists and system administrators dealing with corrupted Corel Draw *.cdr files on a regular basis. This CDR fix was specifically designed and developed for a very large target audience ranging from complete novices looking for a way to restore a single damaged CDR file to professionals facing such files on a nearly daily basis. http://www.fixtoolbox.com/products.html
The combination of a powerful core, an intuitive UI and top recovery efficiency makes it a universal solution for recovering the contents of damaged Corel Draw image files. The program is essentially a multi-step CDR fix wizard with an integrated viewer supporting panning and zooming, which enables users to preview recoverable elements prior to extracting them to the hard drive. http://www.fixtoolbox.com/download.html
The program supports all major formats of CDR files, including CorelDraw 10, 11, 12, X3, X4 and X5, and can be run on most popular versions of the Windows OS. CorelDraw Fix Toolbox does not require any additional components, such as libraries or frameworks, and is ready for CDR recovery immediately after installation. The only requirement is the presence of a copy of Corel Draw installed on the user's system at the time of recovery.
"We are very excited and proud to present a new and advanced version of this CDR fix tool that has always been one of our best-selling products," explained Boris Bobrov, Senior Software Engineer at Fix Toolbox. "Our internal benchmarks and our beta testers' results indicate a considerable performance boost compared with previous versions and we are happy to offer this extra speed to our customers."
The demo version of CorelDraw Fix Toolbox is available for download from the official website of Fix Toolbox. http://www.fixtoolbox.com/