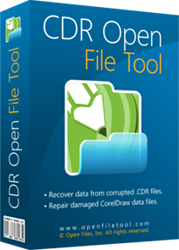 A powerful and fast CDR opener intended for users of all skill levels.
Sacramento, CA (PRWEB) January 22, 2014
Open Files Inc, a renowned developer of compact and highly efficient data recovery solutions for the mass market, is proud to present the latest version of CDR Open File Tool, a specialized CDR opener that helps users recover the contents of damaged CorelDraw image files. http://www.cdr.openfiletool.com/
Although the program is likely to be used by artists, illustrators and designers, its interface has been dramatically simplified to make it accessible for users with no previous recovery experience and extremely basic computer skills. The UI of CDR Open File Tool is based on a step-by-step recovery wizard with just a few steps covering the entire process and offering full automation of key operations. http://www.openfiletool.com/products.html
CDR Open File Tool supports CorelDraw files of all major versions (starting from 10) containing compressed graphics in various color schemes. The new recovery engine of this CDR opener relies on proprietary data analysis algorithms that make it possible to extract data even from files that were seriously damaged in various types of data corruption incidents, including OS crashes, hardware failures, interrupted transmissions and virus attacks. http://www.openfiletool.com/support.html
The program comes with a convenient CDR file viewer that lets users preview recoverable contents using panning and zooming prior to extracting them. The software requires absolutely no additional components to be downloaded and installed – CDR Open File Tool works "out of the box" and only needs a copy of CorelDraw to send recovered data to.
"We are absolutely positive that CDR Open File Tool is by far the fastest CDR opener on the market," commented CTO of Open Files Inc. "The new engine that we had worked on for quite a while demonstrates outstanding results and recovers files that the previous version couldn't handle at all."
The free demo of CDR Open File Tool is available for download from the official website of Open Files Inc. http://www.openfiletool.com/downloads.html