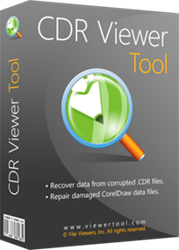 the most advanced, optimized and fastest version of CDR Viewer Tool to date.
Sacramento, CA (PRWEB) January 15, 2014
Viewer Tool, a company known for its deep expertise in the data recovery field and a well-known supplier of award-winning solutions for the most popular mainstream software, announced the release of a totally new version of CDR Viewer Tool, a compact, yet powerful CDR viewer created for regular users and professional artists. http://www.cdr.viewertool.com/
The program's data analysis core has undergone a complete overhaul and is now based on several proprietary algorithms that work together to identify the maximum of recoverable contents in damaged CorelDraw files. Thanks to a convenient file preview module, the program enables users to preview recoverable contents of damaged *.cdr files using zooming and panning. http://www.viewertool.com/
The interface of the program is based on a step-by-step wizard that transforms the recovery procedure into a series of simple and easy-to-follow steps. CDR Viewer Tool doesn't require any prior training, has minimal lead-in time, and is simple enough to be used by computer novices and industry professionals right "out of the box". http://www.viewertool.com/support.html
The software automatically detects the version of the source CorelDraw file and adjusts recovery settings and the parameters of the output file accordingly. The only requirement for the proper operation of the program is the presence of CorelDraw on the user's system at the time of recovery. Apart from this, no additional components, such as frameworks or libraries, are required. http://www.viewertool.com/downloads.html
"We are delighted to offer designers and digital artists around the world an affordable and ultimately efficient CDR viewer and recovery tool," said Senior Product Manager at Viewer Tool. "The new engine is pure magic and we've already seen a dramatic performance and quality increase. The efficiency has increased so much that the program even opened files that its previous versions couldn't handle – and that's more than we could hope for!"