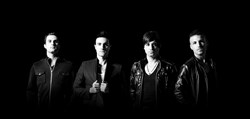 With songs and sound likening 'U2' and 'Muse', 'Ceasefire' is buzzing with energy and stage presence.
Los Angeles, CA (PRWEB) August 06, 2013
Musical powerhouse "Ceasefire", based in Orange County, CA, has just released their new EP "In The Dead of Night" to critical acclaim. The band is known for their live performances and anthem-like songs, and their new EP takes you on a musical journey through the highs and lows of hope and love, time and space.
The Orange County Music Examiner called Ceasefire "A band that plays the same sort of rock that fills arenas at every U2 show". Ceasefire is known as one of the best live bands around, buzzing with energy and stage presence.
Josh Mosser recorded "Imagine Dragons" platinum album "Night Visions", as well as mixed and co-wrote some of the songs that appear on that album. Josh considers Ceasefire's EP to be a break-out record that could put the band on the national scope.
"I think that Ceasefire has the ability to really push the envelope of where alternative and rock music are today," Josh declares. "They draw from an eclectic mix of musical influences, both modern and classic, and have turned them on their head to create this new sound."
Besides his work with "Imagine Dragons", Josh recently recorded songs for "X-Ambassadors" and "Jamie N. Commons". He also recorded and mixed several songs for "Skylar Grey" which appear on her new album, "Don't Look Down".
To contact Josh Mosser, visit http://www.BWestMusic.com
"In The Dead of Night" EP by "Ceasefire", is available on iTunes