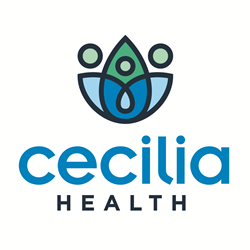 Right now, we need to make sure that anyone who can't get to their doctor can still get support, and we know Cecelia can fill that gap.
NEW YORK (PRWEB) May 12, 2020
Cecelia Health is providing essential clinical support to people of all ages living with Type 1 and Type 2 diabetes around the country in response to challenges resulting from the COVID-19 pandemic. In partnership with the Helmsley Charitable Trust, Cecelia Health's virtual care is an invaluable alternative to in-person visits with endocrinologists and other clinical staff for actively and successfully managing diabetes.
"Cecelia Health has an army of Certified Diabetes Care and Education Specialists (CDCESs) providing remote telehealth support to both adults and children living with insulin-dependent diabetes. Right now, we need to make sure that anyone who can't get to their doctor can still get support, and we know Cecelia can fill that gap," said David Panzirer, Trustee of the Helmsley Charitable Trust.
Nationwide, over 50 universities and hospitals are receiving funding from Helmsley for their diabetes clinics to help them through the COVID-19 crisis. In addition to financial support, a subset of these clinics will have access to Cecelia Health's CDCESs to assist both patients and clinicians with providing a spectrum of support to people in managing their insulin-dependent diabetes to ease the daily burden and help improve outcomes, including:

Increasing success with using technologies like continuous glucose monitors (CGM) or blood glucose meters (BGM), or insulin pumps,
Helping people with diabetes prepare for scheduled telemedicine visits, including uploading their CGM and insulin data to allow easy review by clinic staff,
Providing support and education to children and parents and caregivers of children living with Type 1 diabetes,
Assessing possible dosage and titration changes and facilitating follow up with endocrinologists if needed,
Support for making small yet significant behavior or lifestyle changes, and
Lending an ear at a moment when mental health is on the line for everyone, and especially for people living with increased risk of COVID-19 due to their diabetes.
"Cecelia Health's CDCESs augment our team's efforts to reach out to our patients, provide training and education, and prepare them for telemedicine visits. This is a tremendous help as we try to work with as many patients as possible during our rapid transition to telemedicine necessitated by COVID-19, said Dr. Ruth Weinstock, Founder and Medical Director of the Joslin Diabetes Center at SUNY Upstate Medical University, Syracuse." Cecelia Health's CDCES team is providing personalized and compassionate care to our patients, and we are all grateful for the added bandwidth during this challenging time."
CDCESs will also help educate patients on resources for discounted or free medication and diabetes supplies and facilitate prior authorizations and letters of medical necessity.
"The COVID-19 pandemic has created additional complexity for people with diabetes on top of their everyday challenges they face. As an example, patients who rely on access to their providers and clinical teams for their medications, care, education and diabetes management now are not able to get those vital services. In partnership with the Helmsley Charitable Trust, we are grateful to provide our services to people living with diabetes during this difficult time" said Cecelia Health CEO and Founder, David Weingard.
About Cecelia Health
Cecelia Health's mission is to transform and improve the lives of people living with chronic conditions worldwide. Cecelia Health has a proven track record of driving improved clinical outcomes and return on investment for customers. The Cecelia Health clinical team is comprised of nurses, dietitians, exercise physiologists, pharmacists, and social workers who are passionate about empowering people with chronic conditions to live rich, healthy and fulfilling lives. Cecelia Health partners with ACOs seeking to improve quality measures, and pharmaceutical and medical device companies seeking to improve adherence. Cecelia Health has also engaged in numerous joint initiatives with the JDRF, American Diabetes Association, the Diabetes Research Institute, the Association of Diabetes Care & Education Specialists, and The Helmsley Charitable Trust. Through their dedicated COVID-19 Resource Center. Cecelia Health is providing the latest information on how to best cope with this pandemic outbreak.