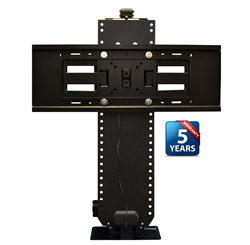 One thing we never compromise on is quality. We continually get rave reviews for the quiet operation, reliability and ease of integration of our TV lifts
Dallas, Texas (PRWEB) October 12, 2015
Touchstone Home Products, Inc. will showcase its new Whisper Lift II Pro Advanced Swivel Motorized TV Lift at Booth 8200 the CEDIA Expo 2015 in Dallas, Texas October 14-17, 2015. Recently nominated for the CEDIA Expo 2015 "Best In Show" award, the Pro Advanced Swivel TV Lift has been getting top marks for reliability, usability and innovation.
The Touchstone Whisper Lift II Pro Advanced Swivel TV Lift mechanism was designed in consultation with AV integrators to include the most requested features by end users. The Pro Advanced Swivel TV Lift pulls out and swivels 60 degrees to each side, expanding the TV viewing area. An electronic safety sensor prevents the lift from lowering in the swivel position. The programmable lift height memory enhances installation options.
To meet customer demands, the Touchstone Pro Advanced Swivel TV Lift swivels manually. "In the development process, many integrators told us the end users want the swivel technology but they don't want to pay thousands of dollars for this feature. The manual swivel operation cuts down on the cost to the end user. This opens up the advanced TV lift market to more consumers," explains Frank Quinlisk, Vice Pesident of Marketing for Touchstone Home Products.
This Touchstone Whisper Lift II flat screen television lift mechanism is built to last and is covered by a 5-year warranty. "One thing we never compromise on is quality. We continually get rave reviews for the quiet operation, reliability and ease of integration of our TV lifts," says Quinlisk.
Like all Touchstone Whisper Lift II lift mechanisms, the Pro Advanced Swivel TV Lift is made with durable steel construction and a linear actuator for quiet, smooth operation. This TV lift raises or lowers a TV in less than thirty seconds and has a 36-inch stroke. Other advanced technology features include RF and IR capability for programming to third party remotes and a 12-volt connection to raise and lower the television when the TV is powered on or off.
The Pro Advanced Swivel TV Lift includes Touchstone's Universal Quick Connect System. This smart feature makes the TV lift easy to integrate into any configuration. This versatile TV lift can be installed in three positions so the same lift can drop down from the ceiling, extend from the floor or pop out of a cabinet.
Touchstone will give demonstrations of the Whisper Lift II Advanced Pro Swivel TV Lift at Booth 8200 at CEDIA Expo 2015.
For more information about Touchstone advanced technology TV lifts and TV lift cabinets, visit http://www.TouchstoneHomeProducts.com.
About Touchstone Home Products
Touchstone Home Products is a leader and pioneer in the design and manufacturing of Theater Lift cabinets, mechanical TV lifts and wall mounted electric fireplaces. Founded in 2005, Touchstone offers cabinets in contemporary, traditional, and transitional styles to fit seamlessly in almost any home. Touchstone TV lift cabinets and electric fireplaces maximize space, enhance in-home entertainment and provide a unique experience to any room in the house. Touchstones plasma TV lift mechanisms are industry leaders in value priced quality.
About CEDIA
CEDIA, the Custom Electronic Design & Installation Association, is the leading global authority in the $14 billion home technology industry. CEDIA represents 3,500 member companies worldwide and serves more than 22,000 industry professionals that manufacture, design, and integrate goods and services for the connected home.
Source: http://www.cedia.net/about