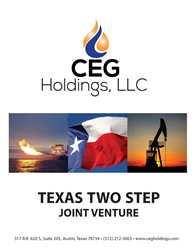 Energy is a great investment, but the Lone Star Collection is a big bright spot, even for the energy industry. CEG Holdings, LLC., and partners are likely to be making profit headlines in the months and years to come.
Austin, Texas (PRWEB) December 15, 2016
This week CEG Holdings is releasing their massive new Texas Two Step Project to new investors. This expansive project, containing two major Texas drilling sites, is a bold move to take advantage of record low drilling costs.
As oil prices have dipped, so has the price of drilling oil wells, making this prime time for exploring for additional reserves. Industry analysts believe it's only a matter of time until oil prices could spike again, turning CEG's New Texas Two Step Project into a profit headliner.
The Texas Two Step Project includes two large multi-layer fields in Matagorda County, Texas, comprising 400 acres, in the heart of Texas oil country.
Revenue from the CEG Holding's new Texas Two Step Project could reach $100,000,000. Experts believe there are approximately 5,200,000,000 cubic feet of natural gas and 1,215,000 barrels of crude ready to be pumped.
CEG's investors are bracing for a healthy round of what the industry refers to as double dipping. That is when investors drill during inexpensive times when prices are low, then sell their oil when the price goes back up. New investors have the advantage of getting in now at low energy prices, and being in position when prices skyrocket.
CEG Holdings uses advanced 3D seismic technology to pinpoint the location of rich oil reserves. This cutting edge technology is bringing greater precision to modern oil exploration and development.
Texas is the nation's leader in oil production with proven oil reserves approaching 10 billion barrels. The vast promise of American oil fields, coupled with newer drilling and refining methods, has made the United States the #1 oil producing country in the world.
Further details on CEG Holding's new Texas Two Step Project can be viewed at: http://www.cegholdings.com/current-projects.html
CEG Holdings, LLC. Company Overview:
CEG Holdings, LLC., is an acquisitions company based in Austin, Texas, with over 70 years of energy industry experience, that specializes in buying undervalued oil & gas investment properties, with accredited individual & institutional investors. The corporate office is located at 317 Ranch Road 620 South, Suite 205, Austin, Texas, 78734. Our specialty is participating in lower risk, tax favorable oil and natural gas field development and exploratory drilling programs.
CEG Holdings is typically able to participate alongside large public companies drilling in productive areas where additional reserves are likely to be discovered. After 70 years of energy industry experience, we have learned what works and what does not. Following this disciplined pre-screening approach, which includes: utilization of 3D seismic technology, detailed field analysis, state record searches, working with the right oil well drilling companies, independent third party reviews and partnering with proven industry leaders, provides the highest odds for success.
Toll Free Partnership Information #1-800-830-3029
The information contained herein is for informational purposes only. Nothing contained herein is an offer to sell, or a solicitation to sell securities.