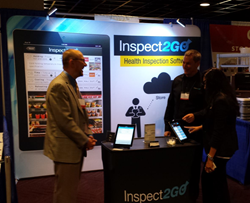 Tablet-Based Environmental Health Software to be Demonstrated at CEHA 2014
Napa, CA (PRWEB) March 24, 2014
Inspect2GO (http://www.inspect2go.com/) will demonstrate the latest technology for environmental health inspection at CEHA. Visit Inspect2GO at booth #15, March 31 through April 2 in Napa, CA.
Inspect2GO's health inspection software includes native tablet, cloud database and web-based modules. Perform all environmental health inspections without the need for connectivity, using a native app on iPad, Windows or Android Tablets. Utilize the FDA Food Code, other federal/state regulatory codes or customize for your municipality. Sync with Inspect2GO's cloud database, or your municipality's database. Use the web-based environmental health management software for inspection scheduling, restaurant permitting, past violation history, code referencing, public web posting, and a wide range of functions.
Laptops, internet connectivity, code books and cameras are unnecessary. Just use the native app on your iPad, Windows Surface or Android tablet. Then sync with the cloud database later. Manage all operations via the web-based portal.
Can't make it to CEHA? Contact Inspect2GO directly for a demonstration.
About Inspect2GO
Inspect2GO, Inc., (http://www.inspect2go.com) offers environmental health inspection software to municipalities nationwide. Inspect2GO's comprehensive software solution consists of 3 components; mobile app, cloud database and web-based office software. Restaurant inspection and other environmental health (EH) audits are performed via the mobile application. The "native" mobile app functions on an iPad, Android tablet or Windows mobile device without an internet connection. The mobile app then syncs with Inspect2GO's cloud database (or the customer's server). Web-based office software is used to manage the process. Users can schedule inspections, view facility history, reference health codes, print permits, search and generate custom reports all within one comprehensive software package. Inspect2GO tailors its software to meet the unique regulatory needs of each municipality.