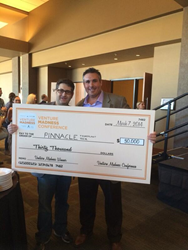 This victory means unbelievable exposure in the community to show what we've been working so hard on for the last three years. --Gabriel Hyams, Pinnacle Transplant Technologies President & Executive Director
Phoenix, AZ (PRWEB) March 13, 2014
From a field of 64 early-stage companies emerged a single champion, multi-service tissue bank and client company at the Center for Entrepreneurial Innovation (CEI) Pinnacle Transplant Technologies, who earned the top honor at Invest Southwest's "Venture Madness" last week.
Pinnacle out-dueled Scottsdale-based Contatta, a "collaborative email" software platform, in the pitch competition and took home a $30,000 cash prize as a result of their efforts.
"This victory means unbelievable exposure in the community to show what we've been working so hard on for the last three years," said Gabriel Hyams, Pinnacle Transplant Technologies President and Executive Director. "It will give us the opportunity to reinvest in the company and continue to fulfill the cycle of donation."
Dedicated to the ethical participation in the donate life process, Pinnacle prepares cadaveric tissues for transplant into live human recipients. Its products include Demineralized Bone Matrix Sponges (DBM), sports medicine grafts and Amnion Derived Allografts, among others.
The company, which saw 89% growth over strong 2012 revenue numbers and added 25 employees in 2013, has been leveraging CEI's business development resources since being accepted into the program in June 2013.
The Phoenix-based business incubator is providing executive-level management services as well as corporate culture assistance to help the company continue its trajectory of high growth over the next year, which includes the hiring of another 10 to 15 employees.
"Pinnacle is one of the most exciting clients we have in our program because of the tremendous impact they are having in the biomedical industry as well as their incredible growth potential," said CEI Executive Director Jeff Saville.
"The fact that they won Venture Madness, among a field of 63 other prominent startups in the region, simply reinforces the great work they are doing."
CEI had 6 clients participate in the Venture Madness competition, more than any other incubator program in the state. Three companies - Pinnacle, Smart Phocus and SiO2 Nanotech LLC - advanced to the final 16, which included live pitches at Talking Stick Resort in Scottsdale, until a champion was determined.
About CEI
An initiative of the Maricopa Corporate College, the Center for Entrepreneurial Innovation is a community-based business incubator located on the campus of GateWay Community College in the heart of Discovery Triangle. With funding from the US Economic Development Administration, City of Phoenix and Maricopa Community College District, CEI provides targeted business services and proactive business support to create a systematic link between technology development, compelling markets and opportunities; entrepreneurial and managerial talent development; early stage capital sourcing; and education and training, interns, coaching and business counseling.