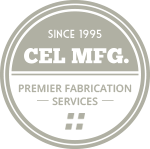 Seattle, WA (PRWEB) January 31, 2014
What do birthmarks, photo copy machines, and precision sheet metal have in common? According to a recent article from Cutting Edge Laser, a Woodinville based sheet metal fabrication company, the commonality between these three items (and many more) is the laser. The article shows the many unique and unknown uses of lasers, as well as the everyday uses that may surprise some readers. To view the article, click here.
The article opens with a quick list of items that consumers use every day. CEL notes that television, cable, DVDs, CDs, printers, computers, remote controls, and other various technology all use lasers in some form or fashion. "Naturally, we know that you're aware lasers are used for precision cutting metals." They say, "But did you also know they are used to temper glass, cut through plastics and even fabric? In fact, the clothing you have on right now was very likely cut by a laser beam!"
Overall, Cutting Edge Laser's blog seeks to instill a sense of wonder at the utility a laser provides. CEL has written on various laser and manufacturing based topics in the past, ranging from 3D CAD software, the history of lasers, and local manufacturing. To follow their blog, visit: http://celmfg.com/cel-news.
About Cutting Edge Laser
CEL Manufacturing has been serving the needs of Washington in the area of metal fabrication, since 1995. CEL has made it a point to keep up with all the newest technologies in order to better serve their customers with the best and most cost effective service possible. Over the years, design and engineering has become a vital part of how they help their customers receive the best possible product for their needs.