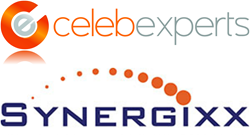 My strategic partnership with CelebExperts allows my agency to generate content that creates sales through credibility with star power. Our partnership is changing how the celebrity/product marketing game is played. - Charlie Fusco
New York, New York (PRWEB) August 31, 2016
CelebExperts, a leading celebrity talent acquisition firm, and Synergixx, a multi-faceted creative marketing agency, have partnered to create a unique opportunity for companies and brands looking to build their own successful direct to consumer campaigns. Next month, Morgenstein and Fusco will be holding meetings with potential partners at the 2016 ERA D2C Convention held from September 13-15th.
The D2C Convention produced by the Electronic Retailing Association (ERA) is an opportunity for suppliers, marketers and industry professionals to come together and discuss innovative strategies in direct to consumer marketing. Executives and brand partners interested in speaking with the CelebExperts and Synergixx team via conference call or in-person at the convention are encouraged to reach out via email to coordinate scheduling with a company representative.
"Consumers are looking for impactful, engaging, and unique content in exchange for their product dollars," said Fusco. "A marketer has to provide this in every market channel in a standout way. My strategic partnership with CelebExperts allows my agency to generate content that creates sales through credibility with star power. Our partnership is changing how the celebrity/product marketing game is played."
Evan Morgenstein has dual experience in brand building as a talent agent representing Olympic athletes and lifestyle celebrities in addition to working as a corporate consultant to industry leaders all the way down to brands at the start-up level. Charlie Fusco is a female entrepreneur of many talents, having built her own marketing agency specializing in direct response marketing on TV, radio, mobile and online. Together they offer a 1-2 punch of experience and expertise in turning consumers into buyers and building brand loyalty.
About CelebExperts
CelebExperts is a corporate consulting and celebrity acquisition firm dedicated to demystifying the celebrity acquisition process and finding creative solutions to effectively market your brand leveraging the power of a celebrity. For more information on how your brand could utilize a celebrity talent as a spokesperson for upcoming marketing campaigns, please contact our team at consulting(at)celebexperts(dot)com or give us a call at (919) 459-5426.
About Synergixx
Synergixx, LLC is a creative think tank leading the way in merging traditional and online direct to consumer health and lifestyle product and service marketing strategies on TV, radio, print and online. The firm handles all media buying internally, and has an in-house, 24-7 sales and customer service call center for immediate fulfillment when clients' products or services are advertised. For more information, visit http://www.synergixx.com.