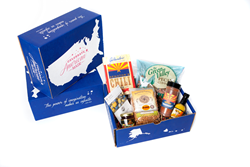 We wanted to offer the local farmers' market experience to all of our subscribers by introducing a monthly subscription box that features locally made products from a select state
Boulder, CO (PRWEB) February 28, 2014
Celebrate American Made, a monthly subscription box service, announced today the release of its February box that highlights the state of Arizona with products made in America. For a limited time, these boxes will be available to order online at: http://www.celebrateamericanmade.com. The Arizona box will ship until the end of March or until supplies last.
This unique monthly subscription box service offers USA products that celebrate American ingenuity and excellence, one state at a time. Each month, a new state is chosen and subscribers will receive a box filled with locally made food items that reflect the culinary tastes of that state.
"We wanted to offer the local farmers' market experience to all of our subscribers by introducing a monthly subscription box that features locally made products from a select state," notes Tiffany Tompkins, owner of Celebrate American Made. She continues, "Each month our subscribers take part in a journey through America by trying local foods produced by small and medium-sized businesses. Subscribers get to experience what the locals love."
This month Celebrate American Made will be featuring the state of Arizona. In this subscription box, subscribers will receive unique products such as: RisingHY habanero honey mustard, Ramona Farms tepary beans, Goldwater's Foods Senators chili mix, Cheri's Desert Harvest prickly pear cactus jelly, Native Seeds/Search heirloom seeds, Green Valley Pecans, and Anthony's Spices blackening seasoning blend. Arizona is home to some of the oldest documented food traditions in North America. Tepary beans have been planted by the Pima American Indians since the 1600s and prickly pear cactus, high in antioxidants, has been harvested for hundreds of years. Now subscribers can have the opportunity to taste history.
About Celebrate American Made (http://www.celebrateamericanmade.com)
Celebrate American Made started with a dream to create a business that celebrates local products made in the USA. Celebrate American Made, will take you on a culinary journey across the nation and celebrate the small business owners who help keep Americans' taste buds enticed. These products won't be found in grocery stores, but you will find them at local farmers' markets and some specialty shops, and of course through the Celebrate American Made monthly subscription box service.