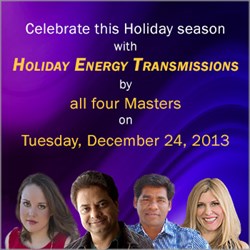 (PRWEB) December 19, 2013
Trivedi Master Wellness™ is offering a unique and beneficial way to celebrate the holiday season this year. On Christmas Eve, that is, on December 24, 2013, for the very first time, incredibly powerful Master Energy Transmissions will be administered by all four Trivedi Masters™ Mahendra Trivedi, Dahryn Trivedi, Gopal Nayak and Alice Branton all at the same time. As a gift to humanity, this incredible opportunity is being offered for a special holiday season price of only $200, the normal price of a single Master Energy Transmission from one Trivedi Master™.
People from all over the world and from all walks of life are invited to take advantage of this generous and life changing opportunity to receive The Trivedi Effect® through "Holiday Energy Transmissions" on the Eve of Christmas. Master Energy Transmissions, the most powerful of all Energy Transmissions, will be bestowed upon people by all four Trivedi Masters, Mahendra Trivedi, Dahryn Trivedi, Gopal Nayak and Alice Branton on this day, at a time when people will be asleep and their receptivity will be at its highest. People will experience the long lasting impact of this transmission throughout the coming year and beyond. This really is a phenomenal opportunity to bring positive transformation to your life or the lives of others.
The Trivedi Effect® is a natural phenomenon that is administered through Energy Transmissions directed through the thoughts of the Trivedi Masters™ Mahendra Trivedi, Alice Branton, Dahryn Trivedi and Gopal Nayak. Validated through rigorous scientific testing, it can transform living organisms and non-living materials in such a way that they start to function at a higher level, to serve a greater purpose. To learn more about the Trivedi Masters™ and the wonderful transformational properties of the Trivedi Effect®, please visit The Trivedi Effect® website at: http://www.trivedieffect.com.
Thousands of people who have already experienced The Trivedi Effect® have left testimonials describing the incredible benefits and transformation they received as a result. To view their testimonials please, visit the web page: http://www.triveditestimonials.com. Receiving energy from four Trivedi Masters at once really is an exciting opportunity to fully experience The Trivedi Effect® and the wonderful life enhancing transformation it brings.
Holiday Energy Transmissions opportunity will be the first time that all four Masters join together to transmit this high level of energy at the same time. The impact of these combined Energy Transmissions will be extremely beneficial and may be just the opportunity you need to bring positive transformation to your life or the life of loved ones. The icing on the cake is that, people are getting this incredible opportunity to experience Master Energy Transmissions from Four Trivedi Masters™ all for the special rate of only $200, the usual cost of just one Master Energy Transmission.
So what you are waiting for? Take advantage of this unique opportunity and register yourself and your loved ones * (terms and conditions apply) for the "Holiday Energy Transmissions." To find out more about the opportunity or to register now, visit http://www.trivedimasterwellness.com/celebrate-holiday/.
We look forward to sharing this wonderful gift of transformation with you.