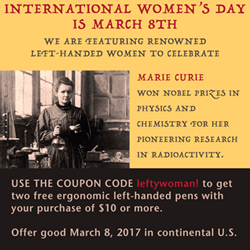 San Francsico, CA (PRWEB) March 08, 2017
The left-handed pen is mightier than the sword! Lefty's the Left-Hand Store offer's 2 free left-handed pens on International Women's Day. Pens are more of a "woman's tool," and so Lefty's chose to offer the ergonomic Maped left-handed pens as a free add-on for International Women's Day.
Just go to the website on March 8, 2017, and purchase $10 worth of merchandise, then add the left-handed Maped 2 pack pens to the cart, then enter the code leftywomen at checkout.
Left-handed women are rare, compared to left-handed men. Lefties are approximately 3 times more likely to be male!
On Lefty's the Left Hand Store's website, famous left-handed women will be featured throughout the month of March, Women's History Month. Though there have been left-handed warriors (Joan of Arc, for example), lefty women have had varied and interesting careers. Follow the website for the remainder of the month to learn more about such remarkable left-handed women as Marie Curie, Helen Keller, Queen Victoria, and Ruth Bader Ginsburg.
Visit Lefty's retail stores on Pier 39 in San Francisco or in Downtown Disney at Walt Disney World Resorts in Florida.