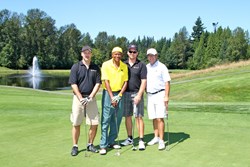 Seattle, WA (PRWEB) August 27, 2013
The Chris Elliott Fund (CEF) hosted the 12th Annual Celebrity Golf Tournament at Bear Creek Golf Course in Woodinville, Washington on August 5th. The event brought players and coaches from several professional sports leagues joined the CEF team including 12 pro sports legends.
The event was complete with putting contest, longest drive and closest to the pin competitions for both men and women as well as prizes for the top 2 best scoring teams. Foursomes had the opportunity to golf with celebrity golfers.
All proceeds benefit the Chris Elliott Fund and their day-to-day work and mission to end brain cancer by providing immediate patient access to specialists, advanced treatments and comprehensive support programs for brain tumor patients.
CEF extends congratulations to all the winners of the day's tournament including the 1st place team: Kevin Moen, Ken Esteves, James McPherson, John Mendenhall and Nesby Glasgow; winning 2nd place team: Mitch McLaughlin, Seamus Alabaster, Eric Joseph, Richard Doyen, and Charle Young; Closest to the Pin winners Max Anderson and Tony Quattrin; women's longest drive winner Lisa Browning; men's longest drive winner Mitch McLaughlin; and putting contest winner Alonzo Mitz.
CEF also extends a thank you to all the events sponsors including: Novocure, Snoqualmie Casino, Anheuser Busch, Skanska, Pattison General Contractor, Seattle Seahawks, Tattoosh Craft Distillery, United Plumbing, Genentech, Blazing Bagels, Pepsi, Adnvanced Refreshments, Neil the Bagpiper, Colliers International, MyNorthwest.com, 770 KTTH, 710am ESPN, 97.3 KIRO FM, Boyd's Coffee, and Airvan Lines.
About the Celebrity Golfers:
Nesby Glasgow is CEF Board member and former NFL safety playing for Indianapolis Colts, the Seattle Seahawks and University of Washington Husky; Dave Henderson is a former Major League Baseball player for the Mariners, Boston Red Sox, Sanfrancisco Giants, Oakland Athletics and Kansas City Royals; Jason Hamilton a former UW Husky player and assistant coach, color commentator for UW Men's Basketball; Slick Watts is a former NBA guard of the Houston Rockets, New Orleans Jazz and Seattle Supersonics; Alonzo Mitts a former NFL defensive end playing on the Seattle Seahawks and Cincinnati Bengals; Randall Morris an NFL Running back for the Seattle Seahawks and the Detroit Lions; Tim Cowan; Charle Young a former NFL tight end, playing on the Philadelphia Eagles, Los Angeles Rams, San Francisco 49ers and the Seattle Seahawks; Nu Faaola a former NFL running back for the FNL for the New York Jets and Miami Dolphins; Mark Lee an NFL Cornerback for the Green Bay Packers, San Francisco 49ers, New Orleans Saints and college at the University of Washington; Mack Strong a former NFL fullback for the Seattle Seahawks, and 2-time pro bowl player and Antowaine Richardson.
About the Chris Elliott Fund:
The Chris Elliott Fund (CEF) is a brain cancer and brain tumor patient advocacy organization and national 501(c)(3) non-profit with corporate offices in Seattle, Washington. Established in 2002, Chris Elliott Fund's mission is to end brain cancer by expanding patient access to specialists, advanced treatments and comprehensive support programs. The organization and its advocates directly serves 400+ patients and caregivers every month free of charge. CEF is a member of the Society for Neuro-oncologists, American Association of Neuroscience Nurses, American Cancer Association for Cancer Research, Washington Biosciences Association, among others. If we can help, please contact us at WeCare(at)EndBrainCancer(dot)com.