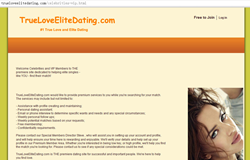 (PRWEB) April 19, 2015
It may seem like rich, famous celebrities wouldn't need to join an online dating site to find a match, but in fact many of them have reported using dating sites in the quest to break out of the Hollywood bubble. One of the most popular elite dating sites, TrueLoveEliteDating.com, is the high-end dating site. In fact the elite dating site has a kind of celebrity concierge service, assisting the rich and famous set up their profiles.
The services for celebrities and VIP people may include but not limited to:

Assistance with profile creating and maintaining;
Personal dating assistant;
Email or phone interview to determine specific wants and needs and any special circumstances;
Weekly personal follow ups;
Weekly potential matches based on your requests;
Free membership;
Confidentiality requirements.
TrueLoveEliteDating.com is the site that is designed to meet elite singles or attractive singles for friendship, companionship, dating, or marriage.
It is the #1 dating for elite singles and their admirers. Every quality single is welcome on the site. They don't have to be rich or famous. Lewis said people should complete their profiles to join, or some incomplete profiles might be refused due to low quality.
The spokesman Lewis discloses the age range of those verified celebrities and VIP members.
20-30 years old: 10%
31-40 years old: 27%
41-50 years old: 36%
51-80 years old: 27%
It seems that more mature people would like to verify their profiles and seriously look for the special one.
Celebrities and VIP people can contact the special members' director Steve, who will assist VIP members in setting up their accounts and profiles, and will help ensure their time there is rewarding and enjoyable. He will verify the details and help set up the profile in their premium member area. Whether Celebrities and VIP people are interested in being low key, or high profile, Steve will help them find the matches they are looking for. They contact Steve to see if any special considerations could be met.