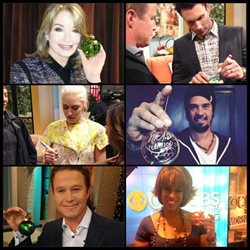 "Improving lives for children around the world is a wonderful gift to be able to give," said Balsam Hill CEO Thomas Harman.
Redwood City, CA (PRWEB) October 12, 2015
Balsam Hill and Operation Smile raised more than $62,000 last Christmas with the #CelebritiesforSmiles campaign. This year the two organizations are teaming up to raise even more. Celebrities from the fashion, television, film, music, sports and media world were invited to sign hand-blown glass ornaments that were auctioned off at http://www.celebritiesforsmiles.com during the month of December.
For 2015, Balsam Hill has again pledged the first $25,000 to Operation Smile and will donate the specially designed hand-blown ornaments. Last year's auction included more than 30 one-of-a-kind holiday ornaments, autographed by celebrities including Billy Bush, Michael Franti, Kevin Jonas, Adam Levine, Gavin Rossdale, Michael Strahan, Mark Wahlberg, Pharrell Williams and the cast of Days of Our Lives. This year, the goal is to have at least 50 new ornaments for auction. Celebrity ornaments already include one signed by Gwen Stefani. Fans can follow #CelebritiesforSmiles on Twitter and Facebook to spot new ornaments and celebrity participants throughout the fall and into the holiday season. Updates also will appear on face-book.com/BalsamHill.
"Improving lives for children around the world is a wonderful gift to be able to give," said Balsam Hill CEO Thomas Harman. "Owning a Celebrities for Smiles ornament is a wonderful annual reminder of the joy that you can not only give, but receive during the holidays by helping others."
"It is such a pleasure to partner with Balsam Hill because they are incredibly motivated and dedicated to helping give smiles to these children around the world," said Dr. Bill Magee, CEO and Co-Founder of Operation Smile. "They truly understand how incredible it is to change the life of a child forever – a child who was been born into the world with no hope. Our work wouldn't be possible without the support of companies like Balsam Hill, and with the celebratory spirit of the holidays, what better gift to give than the gift of a smile."
All money raised by the sale of the ornaments will be donated to Operation Smile, a non-profit medical charity that mobilizes a world of generous hearts to heal children's smiles and transform lives across the globe. To date, Operation Smile has provided over 220,000 free surgical procedures around the world to children with cleft lip, cleft palate and other facial deformities.
About Operation Smile:
Operation Smile is an international medical charity with a presence in more than 60 countries, whose global network of thousands of credentialed medical volunteers from more than 80 countries is dedicated to helping improve the health and lives of children. Since its founding in 1982, Operation Smile has provided more than 220,000 free surgical procedures for children and young adults born with cleft lip, cleft palate and other facial deformities. To build long-term sufficiency in resource poor environments, Operation Smile trains doctors and local medical professionals in its partner countries so they are empowered to treat their local communities. Operation Smile also donates medical equipment, supplies and provides year-round medical treatment through its worldwide centers.
About Balsam Hill:
Balsam Hill was launched in Redwood City in 2006 to introduce a premium level of realistic artificial Christmas trees using Balsam Hill's exclusive True Needle® technology, a process in which their tree designers create molds of natural branches to mimic the texture of live trees for a realistic look and feel. The trees and a new line of holiday home décor are available at http://www.BalsamHill.com, and the trees can be found internationally via websites in countries including the United States, Canada, Germany, England, Australia and France.
Balsam Brands is an Internet Retailer Top 500 e-retailer, appeared on the San Francisco Business Times' 2012, 2013 and 2014 Top 100 Fastest Growing Bay Area Companies list; the Silicon Valley Business Journal's 25 fastest growing private companies in Silicon Valley for 2012, 2013; and 2014 and for the past three years on Inc. Magazine's annual Inc. 500|5000, a list of the nation's fastest-growing private companies.
# # #