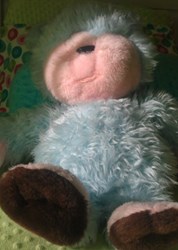 As a celebrity concierge, we accomplish the impossible for our clients because we never say no.
Los Angeles, Calif (PRWEB) February 03, 2014
A lover of a 1970s Gund-brand bear named "Little Chocolate Sweet Feet" is happier today after Elite Concierge & Travel Services, a private consultancy for the high net worth, finds an ultra-rare plush toy by special request.
"Accomplishing the impossible is what we do around here," says Brian Daniel, founder of Elite Concierge & Travel Services (located online at TravelRaven.com). "We never say no to our clients, ever!" Daniel won't say how much the client paid for the ultra-rare Gund doll, but needless to say it must have been extraordinary. Additionally, the firm keeps their client list confidential, so no name-dropping.
Daniel, who is a former travel manager and chief of staff for a royal family, founded his own company in 2007. His specialty is catering to the whims of Hollywood celebrities, high-profile families and billionaires.
"Since I come from a 5-star hotel background, it was only natural that I would eventually start my own concierge service for the well-to-do," says Daniel, who also places personal assistants through his headhunting firm.
Celebrity concierge companies are a fast-growing segment of the travel industry because high net worth families want special once in a lifetime experiences that you can't get anywhere else. Daniel's firm even arranges special private performances and meet-and-greet opportunities with A-list stars.
"If you can dream it," says Daniel, "Then we can arrange it. A client's only limitation is, essentially, how much they are willing to spend." It's not at all uncommon for the well-to-do to spend tens of thousands, or even millions, on opportunities that will give them "bragging rights" to their friends and family.
ABOUT THE COMPANY
Brian Daniel is founder a director of Elite Concierge & Travel Services, a private consultancy for the high net worth. As a former personal assistant, travel concierge and chief of staff to the world's top 1%, Daniel has lived and traveled extensively throughout North America, the Middle East, Asia and Europe.
The concierge wing of his firm is dedicated to offering back-office support for the personal assistants he places through his personal assistant agency, The Celebrity Personal Assistant Network. Some of the services offered through the concierge service include but are not limited to: Private jet charters, Jet fighter rides, Mansion rentals & sales, Invite-only & sold out events, Yacht charters, Red carpet events and movie premieres, backstage and award-season support, and other types of once in a lifetime experiences.
Currently, the concierge services are invite-only. For more information on the Travel Agent to the Stars, visit http://www.TravelRaven.com.