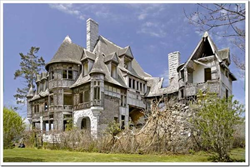 Pompano Beach, Florida (PRWEB) October 06, 2015
TopTenRealEstateDeals.com is searching for haunted homes for their 2015 "Haunted Homes For Sale" feature. The real estate website has been producing the Halloween haunted homes spotlight since 2009.
Telltale signs that a home might be haunted include loud crashes in the middle of the night, lights that turn on by themselves, zombie children who stay up all night and sleep all day, broken windows, collapsing floors and crooked shutters. In other words, the majority of today's homes.
Previous "Top 10 Haunted Homes For Sale" features have included the West Virginia site where John Brown met his demise in 1859, a New Orleans mansion where a Turkish Sultan and his entire harem were murdered in the 1800s, the world's largest ghost house with 110 rooms for sale at $20 million in Philadelphia, a Florida home where Ma Barker and her ghostly gang were wiped out in the longest shootout in FBI history, an actual Colorado ghost town for $2 million, and a Staten Island mansion with tales of mysterious fires, multiple suicides, crying ghost children and a grisly mob hit. No one ever said owning a home was easy. What difference could a few ghosts make?
Nominations should include a brief description of the home's scariest features and a few photos. Send nominations to hauntedhomes(at)toptenrealestatedeals.com.
The Top 10 Haunted Homes For Sale feature will be published at TopTenRealEstateDeals.com on October 20, 2015.
TopTenRealEstateDeals.com is a different kind of real estate website that focuses on celebrity, historic, famous and spectacular homes currently for sale The website has been featured in many of the country's top media websites including People, Time, CNBC, Yahoo, USA Today, AOL, NBC and CBS MoneyWatch.