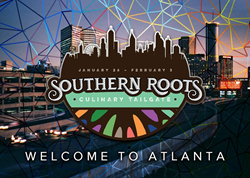 I am honored to use my platform to feature the vibrant and culturally diverse entrepreneurial community of Atlanta for the estimated 1.5 million fans who will converge on my home city for the Big Game. - Chef Ashley Clay
ATLANTA (PRWEB) January 10, 2019
As a global audience descend upon the city of Atlanta, Ashley Clay Enterprises, owned and operated by Celebrity Chef Ashley Clay will bring the richness of "Down South" to the forefront as host of the Southern Roots Festival. As the official "We Are Atlanta" culinary tailgating experience, the event will deliver engaging entertainment and family-friendly activations for nine consecutive days beginning Saturday, January 26, 2019, through Sunday, February 3, 2019.
In conjunction with Southern Roots Festival Creative Director and Executive Producer, Aisha Davis of DESHO Productions, Friendship Baptist Church and NORTH&KING Developers, "Southern Roots" will be presented directly across the street from Mercedes-Benz Stadium. The experience will feature more than 100 small-businesses, culinary experiences, an outdoor pop-up mall, interactive gaming, live concerts from local and national talent, emerging artists, and local food purveyors. Festival attendees can enjoy over ten zones and two main stages that will host live demonstrations, panel discussions, interactive gaming, a silent disco and events including:

Chef Ashley & Friends: Tailgating Experience
Live Concerts
Celebrity vs. Athlete Cook-Offs
Interactive Gaming Experience
"We Are Atlanta" Live Sessions
"Recipe of Success" Women's Empowerment Panel
NFL Players & Celebrity Meet and Greet
"I am honored to use my platform to feature the vibrant and culturally diverse entrepreneurial community of Atlanta for the estimated 1.5 million fans who will converge on my home city for the Big Game," said Clay. "Southern Roots will be a fabulous fusion of food and culture which truly represent Southern hospitality. We are creating an inclusive, diverse and global experience that's literally game changing!"
For more information, visit https://southernrootsexperience.com/. To request press/media coverage, click here.
ABOUT SOUTHERN ROOTS FESTIVAL
The Southern Roots Festival is a culinary tailgate entertainment experience hosted during Super Bowl LIII offering arts, music, culture and mouth-watering Southern cuisine. The festival features programming that highlights food, sports, gaming and special events curated by lifestyle influencers. It represents a collective vision of events and experiences that transcend color, sex and cultural background.
ABOUT ASHLEY CLAY ENTERPRISES
Celebrity Chef Ashley Clay, an Atlanta native, is the founder of Chef Ashley, Inc, a catering empire, which includes Chef Ashley Enterprises and By The Pans. Chef Ashley was exposed to a style of cooking during her childhood and fused her unique Southern flair and traditional American influences to create flavorful masterpieces. Her dishes have delighted the likes of Atlanta royalty including Ludacris, Ciara, L.A. Reid, Floyd Mayweather, and Tyler Perry. Whom all helped catapult her into the political arena landing her private meetings in the Mayor's office with senators and members of Congress. Most recently, Chef Ashley has become the go-to lifestyle and culinary curator for Atlanta's Fortune 500 C-Suite executives. The serial entrepreneur is in the kitchen whipping up a recipe of success to produce her line of seasonings, food products, and culinary expansion into restaurants and hotels. She's also in talks with producers about creating a southern-eccentric food television show.