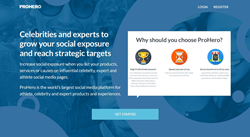 ProHero.com finally makes it easier for consumers and businesses to engage athletes, experts and celebrities online
San Francisco, California (PRWEB) August 09, 2016
On the heels of a beta testing phase involving NFL, NBA, world record holding athletes and musicians, ProHero.com has made its service publicly available. ProHero is a social media platform that allows users to connect and interact directly with athletes, experts and celebrities. The service also features a mobile app available on Android mobile devices, and will be releasing the app for iOS devices shortly.
For public figures such as celebrities and athletes, ProHero allows users and followers to purchase experiences, memorabilia and more, directly. Those who visit the site have the opportunity to bid on, or purchase various experiences and merchandise with their favorite athletes and celebs. Experiences may include a meet and greet; attending a sporting event with an athlete; attend a concert with a Grammy winner, and much more. To sign up and activate an account is free.
Beyond the individual users, businesses, marketers and brands have the ability to offer products and services directly on social media. Likewise, if they are looking for an athlete, celebrity or expert endorsement can do it all easily through ProHero. With the ease of access, celebrities and athletes have a greater opportunity to generate positive exposure for themselves or for a cause they support, and on their own terms.
ProHero is also supportive of non-profits, and active with many. Tools have been added to help non-profit organizations, such as charities, schools, and other philanthropies advance their causes through celebrity donations, charity auctions, celebrity engagement, athlete support and more. More information is available at ProHero.com/Charity-Auction .
ProHero was co-founded by ex-General Mills and banking executives, alongside the co-founder of WordPress, Mike Little, and ex-professional athletes. Users of ProHero include NFL Super Bowl champions, NBA Champions, Olympic medalists, network television analysts, Grammy / Emmy winners and nominees, American Idol contestants and more. Examples of athletes and celebrities already using the site include the likes of three-time Super Bowl champion wide receiver Mark Jackson, track & field World and Olympic champion Maurice Green, former sprint champion and Emmy nominated television analyst Ato Boldon, two-time NBA champion and All-Star Norm Nixon and six-time Grammy Award nominee and two-time winner Ann Nesby.
The Android app can be downloaded at the following link: https://play.google.com/store/apps/details?id=com.ProHeor&hl=en
About ProHero
ProHero is a social site and app that allows your friends and followers to buy anything directly from you. It also connects you directly with professional athletes and celebrities that are nearby. You can meet, dine, workout, chat, hang or get merchandise from Super Bowl champions, Grammy Winners, Emmy Winners, NBA, NFL, MLB, Hockey, Olympic and Soccer stars. ProHero.com users can even attend a concert with Grammy winners, Emmy winners and reality TV stars. Accounts are free and available at https://prohero.com (desktop and mobile versions) and through an Android app with an iOS app available in August 2016.
In addition to individual users, businesses, marketers and brands that want to offer products and services directly on social media or are looking for an athlete, celebrity or expert endorsement can do it all easily through ProHero. Brands seeking endorsement by athletes, including world record holders and others can find a wide selection on ProHero.com with direct contact and pricing information in many cases. The platform can be used by businesses, fans, consumers, influencers, public relations professionals, experiential professionals, endorsers, charity auctioneers, marketers, advertisers and more.
Contact: Steve Ogun, Co-Founder, ProHero, (202) 445-0899, steveo(at)prohero(dot)com