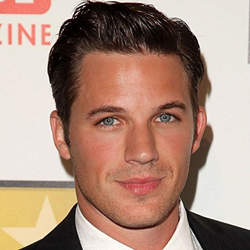 Headlining the 'Help for the Hopeless' event on May 4th, Hollywood celebrity Matt Lanter will speak out against human trafficking and will be on hand for a meet-and-greet with attendees following his remarks.
HENDERSON, Nev. (PRWEB) April 29, 2019
The District at Green Valley Ranch (http://www.shopthedistrictgvr.com), a mixed-use shopping, dining and lifestyle center in the Las Vegas Valley, today announced that it will host an evening filled with great wine, beer and food to raise awareness and funds to benefit Seeds of Hope, a program of the Salvation Army Southern Nevada that aids the victims of human trafficking in reclaiming their lives. The center's "Help for the Hopeless" event will take place Saturday, May 4th, from 5 p.m. to 8 p.m. on Main Street. Headlining the event, Hollywood celebrity Matt Lanter will speak out against human trafficking and will be on hand for a celebrity meet-and-greet following his remarks. Additional entertainment during the event will feature local artists KD Matheson, Stormy Holt and Jon Salvador Gascon painting original works of art live and on-site. Tickets cost $25 each and can be purchased online at http://ow.ly/RctQ30ooWfC.
Facts About Human Trafficking
Human trafficking is a worldwide problem that affects as many as 40.3 million people globally and encompasses both forced labor and sexual exploitation.1 And while the victims of human trafficking are both male and female, according to a report from the UN Office of Drugs and Crime (UNODC), girls and women represent nearly three-fourths of all detected trafficking victims worldwide; females also comprise a shocking 94% of the world's sexual exploitation trafficking victims and 35% of forced labor victims.2 In fact, according to UNODC, more than half of all human trafficking victims worldwide are trafficked for the purpose of sexual exploitation, and a surprising percentage of that sexual trafficking is taking place in what one group calls "the underground sex economy" right here in the United States.3
Bringing the numbers a little closer to home, Las Vegas ranked sixth among a list of major U.S. cities with the most calls to the National Human Trafficking Hotline.4 While brothels are illegal in Clark County, Nevada, which contains Las Vegas and its metro area, some estimates claim that 90 percent of prostitution in Nevada occurs in Las Vegas5. Additionally, a Justice Department study cites Las Vegas as one of 17 cities across the nation most likely to be a destination for human trafficking.6
Event Purpose and Details
To help bring this murky problem out of the shadows, The District at Green Valley Ranch will host a benefit to aid the Seeds of Hope. Services provided by the Seeds of Hope organization include a 24-hour hotline, alternative housing, food and basic necessities as well as working with victims to establish life and parenting skills and provide long-term specialized counseling, medical and dental treatment, educational assistance and job training. The Seeds of Hope typically assists over 150 victims per year ranging in age from 12 to 60 – though they have assisted at least one victim as young as 9 years old.7
"Las Vegas is one of the most vibrant and exciting cities in the world, and at The District at Green Valley Ranch here in nearby Henderson, we're proud to call the city of Las Vegas our neighbor," says Heath McCue, CMD, Senior Director of Marketing for the shopping center. "There are a lot of very good, very concerned people in Las Vegas who have formed a multidisciplinary team8 – including numerous legal, law enforcement, school district, crisis management and victim's advocate volunteers and professionals – to combat the crime of human trafficking, and we want to help these dedicated people by shining a light on the problem and raising funds to assist its victims."
Matt Lanter Appearance
A television and film heartthrob for over a decade, Lanter is best known for his roles in TV teen drama series "90210" and the critically acclaimed NBC time travel adventure "Timeless" as well as his work in movies in the box office smash hit "Pitch Perfect 3" and, as the voice of Anakin Skywalker, in "Star Wars: The Clone Wars." Lanter also regularly uses his celebrity appeal to draw attention to worthy causes including pediatric AIDS and now, with his appearance at The District at Green Valley Ranch's "Help for the Hopeless" event, human trafficking.
In addition to hearing Lanter speak at the event, attendees are invited to an exclusive meet-and-greet with the star where he will sign autographs and pose for pictures from 5:30 p.m. to 6:30 p.m. near the Courtyard on Main Street.
Seeds of Hope
The District at Green Valley Ranch's "Help for the Hopeless" event, sponsored by Life Realty and Me Gusta Tacos, will draw attention to the important work being done by the Salvation Army's Seeds of Hope program as well as local law enforcement, government agencies and the numerous other community service organizations hard at work to identify, rescue and restore victims of all forms of human trafficking.
"Human trafficking is a crime that most people know exists, but no one thinks is happening in their own back yard," says Brittany Hopballe, Director of the Salvation Army Seeds of Hope Program in Southern Nevada. "At Seeds of Hope, we not only exist to serve the needs of identified victims of human trafficking, but we also work hard to raise awareness about what human trafficking is and where it takes place – even when that means taking a hard look at our own lovely city. We so appreciate that The District at Green Valley Ranch has recognized the plight of human trafficking victims worldwide and has reached out to us to help shine a light on the work we're doing to end this crime here in Nevada and to help its victims recover and lead joyful and purpose-filled lives."
Event attendees will enjoy sampling food, wine and beers from a variety of restaurants and eateries at The District at Green Valley Ranch, including King's Fish House, Elephant Bar, Shake Shack, Bella Vita, and P.F. Chang's China Bistro. Shoppers who spend $100 or more at participating retailers will get a complimentary butterfly keychain to commemorate the occasion. Artwork created during the event will include original paintings by up-and-coming local artists. The theme for their work will be "survival." In addition to proceeds from ticket sales, each piece of art will be auctioned during the event with all proceeds from the art sales also benefitting Seeds of Hope.
About The District at Green Valley Ranch: With over 385,000 square feet of retail space, the District offers a unique collection of over 70 name-brand and boutique shopping, office, and dining options including The Cheesecake Factory, P.F. Chang's China Bistro, Shake Shack and King's Fish House. Specialty retailers include Anthropologie, Victoria's Secret, Brighton Collectibles, Bath & Body Works, Charming Charlie, West Elm and Athleta. The District at Green Valley Ranch features a beautiful outdoor setting complete with a fountain, splash pad for children, and a lush park, all conveniently located in Henderson, Nevada, off of the I215 at Green Valley Parkway. For more information, visit http://shopthedistrictgvr.com/. Follow The District at Green Valley Ranch on Facebook at https://www.facebook.com/TheDistrictGVR and Instagram at https://www.instagram.com/TheDistrictGVR/.
1 American Bar Association (2019) "Midyear 2019: Experts Explore Measures to End Trafficking at Casinos As Abuse Rises Worldwide"
2 CNN (2019) "UN Human Trafficking Report: Record Number of Girls Reported as Victims"
3 Bustle (2018) "13 Sex Trafficking Statistics That Put the Worldwide Problem into Perspective"
4 National Human Trafficking Hotline (2007-2016) "Ranking of the Most Populous U.S. Cities"
5 Wikipedia: "Human Trafficking in Nevada"
6 The Salvation Army (2016) "War Cry: Trapped in a Nightmare"
7 Las Vegas Sun (2016) "Advocates for Human Trafficking Victims in Las Vegas Striving to Raise Awareness"
8 KTNV (2019) "Agencies Across Las Vegas Team Up to Fight Sex Trafficking"