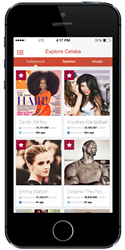 Fans crave connection with the celebs they adore and celebrities seek better ways to communicate and build their audience, with an ever-increasing focus on social media," says Co-founder and CEO Masood Khatri.
New York, NY (PRWEB) October 23, 2013
Aiming to reimagine the way we connect to the world of celebrities, startup Socialgiri releases its eponymous free social media celebrity app today on iTunes and Google Play http://bit.ly/1fratxC. Created with the goal to link together celebrities and fans in ways that never before existed, Socialgiri members curate their own entertainment industry social stream, choosing from over 200+ social media celebs of Hollywood, Bollywood, music & fashion.
"Socialgiri's an exciting win-win for fans and celebrities. Fans crave connection with the celebs they adore and celebrities seek better ways to communicate and build their audience, with an ever-increasing focus on social media," says Co-founder and CEO Masood Khatri. "We believe we are at the cusp of how we can connect celebrities and fans. Socialgiri's launch is advancing this frontier," adds the New York innovator.
Socialgiri offers social media clarity by providing access to 200+ pre-screened celebs and curating their updates from Facebook, Twitter and Instagram. Through the selection of some favorites, a fan can create a customized social stream for celeb updates. The list of celebs will keep growing through the suggestions of the Socialgiri community and an ongoing screening process.
"As interested as fans are in celebrities in the US, this in many ways pales in comparison to the celebrity culture that exists around the world. We took notice that the celebrity with 10 million followers received the same interface and treatment as the rest of the social network. Socialgiri will change that," noted Co-founder Margaret Simons. Socialgiri will soon be releasing its full-feature mobile celebrity social network, which will include advanced features for celebrities to interact with audiences.
"Separate studies reveal 9 minutes of the average hour online are spent on entertainment sites while 16 minutes are spent on social media. Socialgiri combines these popular interests and users browse anywhere at anytime with our mobile platform," added Ms. Simons.
"We predict apps featuring functionality across international markets and uniting the users will grow exponentially. Fortunately Socialgiri is applicable to not only the US market, but to individuals around the world," says Socialgiri co-founder Gazala Wani.
Socialgiri expects to find growth from not only the US, but also from India and around the globe. India's unprecedented smartphone growth has fueled its jump to the third largest market after the US and China.
Last year shipments of iPhones to India between October and December nearly tripled to 250,000 units, from 90,000 in the previous quarter, according to an estimate by the consulting firm Canalys. Industry research company IDC expects the Indian smartphone market to grow more than five times, to 108 million units in 2016, from about 19 million in 2012.
"The mobile experience can provide the ideal full immersion experience for all fans. Today through the adoption of smartphones, people from around the world can connect in ways that never before existed," says Co-founder Suhail Ahmed.
Socialgiri was founded in 2013 by Margaret Simons, Masood Khatri, Gazala Wani, and Suhail Ahmed. Margaret Simons earlier served as an adjunct professor at Rutgers University and was a Vice President at Goldman Sachs. Masood Khatri is a serial entrepreneur and is also the founder of Envesage, a strategic consulting firm. Suhail Ahmed and Gazala Wani are also both a part of Envesage's management team.
Download the app now from ITunes or Google Play.
Learn more about Socialgiri at http://www.socialgiri.com, Facebook (/socialgiriapp), Twitter (@socialgiri) and our online presskit: http://bit.ly/1h18sEJ.
About Socialgiri Inc
The Socialgiri app is available for download in the iTunes App Store and Google Play App Store for free. Located in New York, NY and New Delhi, India, the Socialgiri team was founded in 2013 with the goal to design the best platform and app to easily connect fans with celebs and celebs with each other, the first-of-its-kind celeb network.
For a media kit or any additional press inquiries, please contact:
Margaret Simons
press@socialgiri.com
1 (347) 560-4866