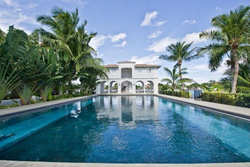 Pompano Beach, FL (PRWEB) September 07, 2016
According to the real estate website TopTenRealEstateDeals.com, the Miami Beach mansion where Al Capone lived and died recently sold.
"Al Capone's Miami Beach Compound"
An historic Miami Beach compound that Al Capone bought in 1928, the home he used as an alibi for the Saint Valentines Day Massacre, and the place where he died in 1947 recently sold for $9 million.
In 1928, Miami Beach was reeling from the the collapse of the Florida land boom and a hurricane that had destroyed much of the resort city. Never one to miss an opportunity, Chicago crime-boss Al Capone bought one of Miami Beach's best estates on Biscayne Bay at the bargain price of $40,000 (about $550,000 in 2016 dollars). Capone spent another $70,000 in fortifying the property against intruders adding a guest/guard house at the entry gate and using rooms above the pool house at the bay's edge to house his guards who were on 24/7 lookout. Safe and secure from his Chicago crime rivals, it was the home where Capone was vacationing when his gang pulled off the 1929 Saint Valentine's Day Massacre, lived full time after his release from prison in 1939 and where he died in 1947 surrounded by family and a few friends.
Many of Miami's community leaders, especially the "Miami News" and the Miami Women's Club, tried to persuade Capone to leave South Florida, but were unsuccessful. Although many crimes were likely orchestrated from his mansion, Capone was seen as a hero and philanthropist by much of the public, funding one of Chicago's largest soup kitchens during the Great Depression and free milk for school children. Law makers were never able to pin gangland events directly to Capone and he continued to live in his Palm Island residence in relative peace until the feds convicted and imprisoned him in 1931 for tax evasion. Capone returned to the residence in 1939 when his prison sentence was reduced due to his deteriorating physical and mental condition. He died peacefully at his Palm Island estate on January 25, 1947 surrounded by family and a few friends.
The Capone mansion is an iconic piece of modern American history, old world glamour and an ideal location. With each change in ownership, there have been improvements to the property with the most current owner completing a full restoration. At 36,000 square feet, it includes the seven-bedroom, seven-bath main home that is gated and walled, the two-story gatehouse and two-story pool house overlooking 100 feet of frontage on Biscayne Bay with views of Hibiscus Island and Miami Beach condos skyline lights.
According to its website, the home is "one of the oldest and most notorious estates in Miami" with "7-foot walls" and "secured 24 hours a day...surrounded by the Biscayne Bay on all sides. The property company managing the Capone estate is MB America in Miami, Florida.
Visit TopTenRealEstateDeals.com for more celebrity homes and real estate news.