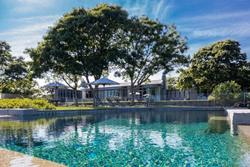 Pompano Beach, Florida (PRWEB) July 30, 2015
The Martha's Vineyard home where President Obama and family spent their 2013 summer vacation is for sale and featured this week at TopTenRealEstateDeals.com.
"President Obama's Vacation Home"
As a tourist, President Obama has been a homebody trailing almost every president since John F. Kennedy in vacation days taken. Like most presidents, Obama has his favorite vacation spots. Ronald Reagan spent 436 days during his presidency at his ranch near Santa Barbara, California. George H.W. Bush went to the family beach home in Kennebunkport, Maine, while his son went home often to his ranch in Crawford, Texas. Martha's Vineyard was a favorite of Bill Clinton and nearby Cape Cod was the longtime family compound for John F. Kennedy - plus a second home in Palm Beach, Florida. Gerald Ford preferred golf and ski vacations in Colorado. Richard Nixon had both a Florida White House in Key Biscayne and a California White House in San Clemente. Jimmy Carter was the workaholic of recent presidents taking only 79 days off during his four-year presidency.
Since he became president, Barack Obama and family have spent Christmas vacations at the beach in Hawaii. The Paradise Point neighborhood where Obama rents is near where the president grew up and features Pacific Ocean views, one of Hawaii's best beaches, a U.S. Marine Corps base where Obama can exercise, and golf at the Kaneohe Klipper Golf Course.
Like President Clinton and many Washington D.C. executives, President Obama and family head to Martha's Vineyard in August when high temperatures in the Capitol frequently soar past the 90s and humidity rolls in like a summer sledge hammer. One of the prettiest vacation spots for the Obama family is a private compound on Martha's Vineyard, Chilmark Pond, with views over the pond and crashing waves on the beach just a short row boat ride away. Chilmark is where Steven Spielberg filmed "Jaws" in 1975 and home to Obama friends Ted Danson and Mary Steenbergen. It is where the family spent eight days in August of 2013 and it is now for sale at $22.5 million - the most expensive listing on the island.
Originally built in 1961 on ten acres, the house had a complete redesign in 2006 as a light-filled contemporary residence similar to the Obama winter vacation homes in Hawaii. A special perk for the president is the half basketball court and home gym. There is a heated infinity pool and a private boat dock on the pond as well as three beachfront lots for enjoying sand and sea.
The 6,967-square-foot main house sits 120 feet above sea level with six bedrooms and seven baths including a private master suite with its own den. The open floor plan includes pool, pond and ocean views from the chef's kitchen, living room and dining room. There are three fireplaces, custom millwork, marble baths and floor-to-ceiling windows. Also on the property is a two bedroom guest house. The listing agent is Thomas Wallace of Sotheby's International Realty in Edgartown, Massachusetts.
Visit TopTenRealEstateDeals.com for more celebrity, historic and spectacular homes.