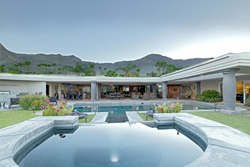 Pompano Beach, Florida (PRWEB) March 05, 2015
Bing Crosby's Rancho Mirage, California home is for sale and featured this week at TopTenRealEstateDeals.com.
"The Bing Crosby Estate"
The king of the Golden Age of Radio and prolific film star, Bing Crosby, with his laid back, easy going baritone voice was the celebrity everyone wanted to see and hear from 1928 when he recorded his first number one song, "Ol' Man River," into the 1960s when he did the last of seven "Road" movies with Bob Hope and Dorothy Lamour. His song, "White Christmas," is the best-selling record in history and still a holiday music staple. Bing was #1 in record sales, radio ratings and film grosses; his unique style was often imitated by stars such as Dean Martin and Andy Williams. He has three stars on the Hollywood Walk of Fame for movies, radio and audio recording.
Bing was more than a singer who recorded over 40 #1 hit songs, an actor whose movies sold over one billion tickets and won the Best Actor Academy Award for his role as Father O'Malley in "Going My Way" and the most popular American celebrity of the 1930s and 40s. He was also a technical wizard whose Crosby Research Foundation pioneered the laugh track and the first reel-to-reel magnetic recording tape. Bing was the first performer to pre-record his radio shows in the days when radio shows had to be broadcast twice - once for the East Coast and again for the West Coast. He was an avid golfer who is in the World Golf Hall of Fame and died in 1977 on a golf course in Spain.
With all his success in acting, singing and business, Bing was very wealthy owning thoroughbred race horses, Texas oil wells, was part owner of the Pittsburgh Pirates and owned multiple homes in Nevada, California and Argentina. His former Rancho Mirage, California home is currently for sale.
Located in Thunderbird Heights, Bing's ranch-style home rests on 1.36 acres with grand views of mountains and city lights. Built in 1957, the 6,700-square-foot, mid-century house contains a total of six bedrooms and six baths. It includes a casita, named after President John F. Kennedy, with two bedrooms, two baths, a living room and complete kitchen with its own private entrance. The casita is completely private and was named for the President after, as popular legend goes, he spent a night there with Marilyn Monroe. Features include custom Moroccan wood entry doors, large, open and airy formal living and dining rooms, media room and chef's kitchen with granite and stainless steel. All glass walls surrounding the outdoor entertainment area retract and open the house seamlessly to the pool, patios, outdoor kitchen and bar with mountain and Coachella Valley views. A perfect home for family and entertaining, the Kennedy casita would make excellent in-law quarters for an extended family.
Bing Crosby's former house that hosted JFK is priced at $5 million. The listing agents are Marc Lange and Carl Blea of Sotheby's International Real Estate in Palm Springs, California.
Visit TopTenRealEstateDeals.com for more celebrity, historic, famous and spectacular homes.