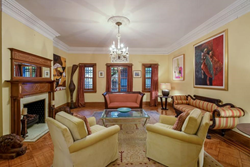 Pompano Beach, Florida (PRWEB) June 15, 2017
"Bob Dylan's Historic Harlem Townhouse"
When Bob Dylan moved from Minnesota to New York City in 1960, he was just a few months from the start of a fast rise to stardom. The city quickly became his creative and inspirational playground where he could collaborate, learn from and work with some of the most innovative musicians of the time. Inspired by people such as Woody Guthrie, Hank Williams, Little Richard, Ramblin' Jack Elliott and his coffee house musician buddies in Greenwich Village, Dylan explored all the genres of American song including country, folk, gospel, rock and roll and even jazz. But it was in songwriting where he made his mark, culminating with the Pulitzer Prize in 2008 and the Nobel Prize in Literature in 2016 for his lyrics. His long career has spanned politics, social change, philosophy and literature and continue to entertain his fans attending his Never Ending Tour that has been running since the 1980s.
The New York City historic Harlem townhouse where Bob Dylan lived from the 1980s until 2000, during some of his most musically productive years, has come on the market. Built circa 1890 and designed by the famous McKim, Mead & White architectural firm, it is located in the St. Nicholas Historic District, created in 1967 by the Landmarks Preservation Commission, encompassing approximately 150 houses. Popularly referred to as Striver's Row, the neighborhood has attracted important residents through the years from politicians to artists.
Dylan's four-story Harlem townhouse measures 3,952 square feet of restored 19th-century details with a complete 21st-century update for today's lifestyles. Included are five bedrooms, three baths, six fireplaces with original mantels, formal dining room, large living room with Juliette balcony, a library, inlaid hardwood floors, crown molding, wainscoting and high ceilings.
Bob Dylan's former historic Harlem townhouse of 14 years is now for sale, priced at $3.595 million. The listing agent is Vie Wilson from Corcoran Real Estate in New York City.
Visit TopTenRealEstateDeals.com for more historic, celebrity and spectacular homes and real estate news.