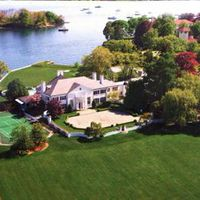 Pompano Beach, Florida (PRWEB) February 12, 2015
Donald Trump's first mansion that he bought in 1982 at age 35 is for sale and featured this week at TopTenRealEstateDeals.com.
"Donald Trump's First Mansion"
Don "The Donald" Trump. It was his glamorous Czech-American wife of 15 years, Ivana, who first referred to her husband as "The Donald" - a name which was instantly snapped up by the media as soon as it left her mouth in her sexy, musical accent. There is no denying Donald Trump has been one of the country's most notable entrepreneurs for almost 50 years. The tycoon's ability to adapt to wild swings in the real estate market, his books and his television show "The Apprentice," have kept him ensconced in an extravagant lifestyle and sharing his sometimes controversial opinions on everything from politics to beauty queens. Bold and brash, Trump is happiest in the limelight whether through a hopeless run for president for every election year or frivolously trying to sue Bill Maher for a joke that Trump might be the son of an orangutang because of their similar orange hair color. Usually a good sport, The Donald responded with his birth certificate to prove that it wasn't true.
As chairman and president of The Trump Organization, he owns, invests in, develops, sells and operates real estate and golf courses worldwide. The company continues to have a stake in Trump Entertainment Resorts, which he founded and later lost in bankruptcy, that owns and operates the Trump Taj Mahal, the Trump Plaza and the Trump Marina Casinos in Atlantic City, New Jersey. The Trump Organization, along with NBC owns the franchises to Miss USA, Miss Teen USA and Miss Universe beauty pageants. The Trump brand is found everywhere from luxury Miami Beach condos to Trump chocolates and spring water.
Trump and his talented first wife, Ivana, purchased a 5.8 acre peninsula mansion in Greenwich, Connecticut in 1982 for $4 million. At the time, Ivana was also charged with refurbishing the Plaza Hotel in Manhattan. As a result, she was able to use many of the same materials in the decoration of the home, creating a residence dripping in gold leaf and other elaborate trappings of elegance. When they divorced in 1991, Ivana received the mansion in the property settlement, which she eventually sold for $15 million in 1998. The new owners immediately began a renovation to tone it down to more livable neutrals and added tennis courts as well as a 4,000-square-foot addition which includes guest suites, a lap pool and a sauna.
Originally built in 1939 and now on the market, the 19,773-square-foot Georgian Colonial-style main house and a guest house have eight bedrooms, thirteen baths, a three-story rotunda foyer with double grand staircase, formal rooms overlooking views of the pool, grounds and Long Island Sound, home theater, a putting green, multiple terraces and patios, tennis courts and three fully-equipped staff apartments.
Awaiting a new Greenwich billionaire resident, Donald Trump's former Connecticut mansion with major additions, six waterfront acres and private boat dock. Originally built for $200,000 in 1939, now priced at $54 million. The listing agent is Tamar Lurie of Coldwell Banker in Greenwich, Connecticut.
Visit TopTenRealEstateDeals.com for more celebrity, historic, famous and spectacular homes.