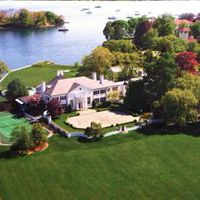 Pompano Beach, Florida (PRWEB) August 12, 2015
Donald Trump's former Connecticut mansion that he bought at age 35 is for sale and featured this week at TopTenRealEstateDeals.com.
"Donald Trump's First Mansion"
Donald Trump was born into the real estate business in 1946 in New York City where his father, Fred Trump, was a developer. Donald started in the business while he was still in college in the 1960s working menial jobs at his father's apartment complex in Cincinnati. In 1971, he moved back to New York City where he took over his father's company changing the name to The Trump Organization and earned a reputation as a fast-rising real estate tycoon on hotel, condominium and casino projects.
With his business success and wealth, Trump owns a roster of mansions. His main home is a posh three-level penthouse at Trump Tower on New York's Fifth Avenue where he also runs his vast business operations. Also in the Gotham area, in 1996 Trump purchased a 60-room mansion in Bedford, New York with three pools and a bowling alley. He later bought Albemarle, a 23,000-square-foot mansion, vineyard and winery on 2,000 acres in Virginia for $12.7 million, a fraction of the original asking price of $100 million. Trump also keeps a large home on Rodeo Drive in Beverly Hills.
When he isn't running for president, firing someone or saying something controversial, Trump relaxes at his Mar-A-Lago mansion in Palm Beach, Florida that he purchased in 1985 for $10 million. The 1920's mansion with 62,000 square feet and over 100 rooms was originally built for Post Cereal heiress, Marjorie Merriweather Post. Trump upgraded it to a private resort with initiation fees of $100,000, annual dues of $12,000 and nightly rates up to $3,000. Mar-A-Lago guests have included Bill Clinton, Regis Philbin, Tony Bennett and Barbara Walters.
Trump was only 35 in 1982 when he and wife, Ivana, purchased their first mansion, a 5.8 acre home in Greenwich, Connecticut for $4 million. Always a family-oriented business, Ivana was also remodeling the Plaza Hotel in Manhattan in the early 1980s and was able to incorporate many of the same materials in the decoration of their new home. When they divorced in 1991, Ivana won the mansion in the property settlement. She sold the Greenwich home for $15 million in 1998, and the mansion's new owners added tennis courts as well as a 4,000-square-foot addition which includes guest suites, a lap pool and a sauna.
Originally built in 1939, the 19,773-square-foot Georgian Colonial-style main house and a guest house have eight bedrooms, thirteen baths, a three-story rotunda foyer with double grand staircase, formal rooms overlooking views of the pool, grounds and Long Island Sound, home theater, a putting green, multiple terraces and patios, tennis courts and three fully-equipped staff apartments. It is currently for sale at $54 million. The listing agent is Tamar Lurie of Coldwell Banker in Greenwich, Connecticut.
Visit TopTenRealEstateDeals.com for more celebrity, historic, famous and spectacular homes.