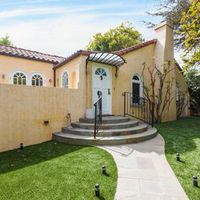 Pompano Beach, Florida (PRWEB) March 26, 2015
Faye Dunaway's long-time home in Hollywood just sold and is featured this week at TopTenRealEstateDeals.com.
"Faye Dunaway's West Hollywood Home"
Famed Broadway, television and film star, Faye Dunaway, was the #1 actress in the world during the 1960's and 70's golden era of groundbreaking American movies. No other actress of the times was as much in demand as Faye appearing in blockbusters such as "Bonnie and Clyde," "The Thomas Crown Affair," "Chinatown," "Little Big Man" and "Network."
The classic beauty with the chiseled cheekbones and refined, elegant style, has always displayed a passion for her craft. The Florida born daughter of a career military father and housewife mother, Faye attracted attention straight out of college (Boston University, Florida State and the University of Florida) performing in "A Man For All Seasons" in 1962 and "Hogan's Goat" in 1965 and two years later was offered the coveted lead role as the 1930's bank-robbing Bonnie Parker in "Bonnie and Clyde." Warren Beatty played the role of her partner-in-crime boyfriend, Clyde Barrow.
Nominated as Best Actress for both "Bonnie and Clyde" and "Chinatown" and Oscar winner for "Network," Faye also won Emmys for her television roles in "Columbo" and "Ellis Island." In the 1990s, she demonstrated her versatility playing on Broadway as opera star Maria Callas in the Tony award winning "Master Class" and a third Golden Globe award starring with Angelina Jolie in "Gia." With one of Hollywood's best business minds, Faye's success is more diversified through strong stock investments, property holdings and endorsement deals with CoverGirl cosmetics and Norell perfume. One of her most recent projects was to sell the charming West Hollywood duplex she has owned and lived in for 15 years.
The duplex of two detached units are hedged for complete security and privacy, each having their own separate gated entrances and a lovely courtyard with outdoor fireplace between the two for common use. Both houses together total 2,437 square feet with four bedrooms and three baths. Built in 1925, Dunaway lived in the larger of the two. Now totally restored and updated, in common they have intricate crown moldings and classic arched doorways and windows. There are new contemporary light fixtures, hardwood floors, kitchen and bathrooms. French doors open to terraces and grounds and a Juliette balcony, fireplaces in living room and bedroom and a walk-in closet/dressing room in the master. Barrel-tiled roof, stuccoed walls and masses of greenery out of every arched opening add touches of charm and warm ambiance.
Film legend, Faye Dunaway, bought her West Hollywood property in 1998 for $315,000 and just sold it for $1.45 million. The listing agents are Farrah Aldjufrie and Eduardo Umansky of The Agency in Beverly Hills.
Visit TopTenRealEstateDeals.com for more celebrity, historic, famous and spectacular homes.