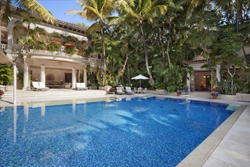 Pompano Beach, Florida (PRWEB) August 18, 2016
According to the real estate website TopTenRealEstateDeals.com, the most expensive home currently on the U.S. market is in Manalapan, Florida at $195 million.
"America's Most Expensive Homes"
America's elite homes get more elaborate and expensive every year. The mansion that was at the top of the price list in 2015 near Fort Lauderdale, Florida at $159 million came with its own IMAX theater, a $2 million staircase and an entry gate decorated with 22-karat gold leaf. This year, Southern California has the #2 home on the market at $150 million with 38,000 square feet that was built on the site of Barbara Streisand's former estate in Holmby Hills. In third place is Palazzo di Amore on 25 acres in Beverly Hills with 12 bedrooms and 23 baths at $149 million. An 11-acre estate in the Hamptons comes in at #4 for $140 million. In 2016, Florida again claims the top spot with Gemini near Palm Beach asking $195 million.
Designed by architect Marion Sims Wyeth and built in the 1940s for the Lambert pharmaceutical family ("Listerine kills germs that cause bad breath") on a barrier island in Manalapan, the estate was eventually sold to high-society couple Loel and Gloria Guinness as a winter retreat. It was purchased by the current owners, the Ziff publishing family, in the 1980s and underwent a four-year expansion and reconstruction that was completed in 2003.
Sited on almost 16 acres with over 1,500 varieties of tropical trees and plants acting as a nature preserve and privacy hedge from coastal highway traffic, the estate stretches from its 1,200 feet of Atlantic Ocean beachfront to 1,300 feet on the Intracoastal Waterway. The coral-clad main residence with over 62,000 square feet includes 12 bedrooms, 12 baths, two libraries, golf trophy room, kitchen with hand-painted tiles and three dishwashers. Also, a seven-bedroom home named Mango House, a manager's house with four apartments and two four-bedroom beach cottages with private quarters for extended family and friends.
Grounds are thoughtfully planned with both activity and relaxation in mind. A sports complex offers a half basketball court, tennis court, practice golf course with two greens, a swimming pool surrounded by cultivated jungle, treehouse and butterfly garden, miniature golf course, a wide deserted beach and a boat dock with ocean access. A tunnel with its own living room and fireplace runs under South Ocean Boulevard to connect the mansion with the estate's guest house and boat dock on the Intracoastal Waterway. Overall, the property totals almost 85,000 square feet of living space with 33 bedrooms and 47 baths. The walled compound can be self-sufficient with two generators, gas pumps and propane tanks.
America's most expensive home is listed by Joseph Liguori of Premier Estate Properties in Boca Raton, Florida at $195 million.
Visit TopTenRealEstateDeals.com for more celebrity homes and real estate news.