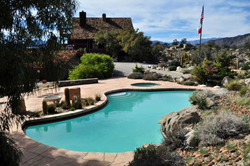 Pompano Beach, Florida (PRWEB) June 17, 2015
Frank Sinatra's Palm Springs compound that he helped design in 1967 and lived for 12 years is for sale and featured this week at TopTenRealEstateDeals.com.
"Frank Sinatra's Palm Springs Hideaway"
Several generations after Frank Sinatra hit the big time in the 1940s, his songs turned into classics such as "My Way," "New York, New York" and "Strangers in the Night," his smooth style and charismatic personality made him one of the country's top celebrities - even after his death in 1998. Long before Elvis and the Beatles, the skinny young man draped in suits laden with extra yards of fabric with pleated pants hiked high caused the 1944 New York Columbus Day Riot when 35,000 screaming female fans lost control at his Paramount Theater concert. He was the most popular singer in America; the biggest star in the world.
Sinatra worked it, both on the stage and in his personal life, by his association with the Rat Pack, his friendships with Presidents Kennedy and Reagan, his beautiful wives and girlfriends and his bad boy connections with the Mob. In the early 1950s, Sinatra's career seemed to fall off a little, but a full resurgence began in 1953 when he co-starred in the film "From Here to Eternity" cast as Private Angelo Maggio and won an Oscar for Best Supporting Actor. After years of continued success and winning the Oscar in 1967, he built a home on five acres 4,300 feet above Palm Springs and the Coachella Valley. He named it "Villa Maggio" after his character in the film.
Now for sale, the Villa is the quiet, private retreat that Sinatra had always wanted. Sinatra was a self-professed "18-karat manic depressive" torn between hiding away or hanging with his friends where he could be distracted from the depression. In Villa Maggio, he created the best of both worlds, perfect for entertaining his Rat Pack buddies to soften the lows or keep it to himself when experiencing the highs. The arrangement worked so well that he resided at the rustic estate for 12 years.
The compound of three buildings is perched on a craggy hilltop surrounded by boulders and exquisite views. Built with warm woods, local stone and seven fireplaces in the main house, it has two kitchens, dining and living rooms, a den, five bedrooms and six bathrooms. The attached guest quarters have two bedrooms, bath, living room with fireplace and a full kitchen. The detached guest house is two stories with a small kitchen, a bathroom, a stone fireplace and a deck overlooking the view. It also has its own generator, water tower and well. The pool house has a great room with stone fireplace, two bathrooms, two saunas and a mini-kitchen with views over the pool and tennis court. A private helipad allows guests to fly in and out and parking accommodations for 25 cars.
Sinatra had homes in the places where he worked most often from the New York penthouse when he was married to Mia Farrow to the Los Angeles estate home he shared with Nancy Sinatra. Villa Maggio, sited on a granite mountain plateau over Palm Springs, may have the strongest connection to the real Sinatra; built to his personal specifications to satisfy his unique inner needs. The current owner's family were Sinatra friends and are the only occupants since Frank lived in the home.
Frank Sinatra's long-time Palm Springs home is for sale at $3.95 million. The listing agent is Frank Jackwerth of Hilton & Hyland Real Estate in Beverly Hills.
Visit TopTenRealEstateDeals.com for more celebrity, historic, famous and spectacular homes.