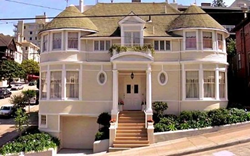 Pompano Beach, Florida (PRWEB) November 01, 2016
Celebrities are making real estate news in San Francisco, Philadelphia and New York City.
"Prince Albert Buys Mom's Philly Home"
The big celebrity event of 1956 was the marriage of Grace Kelly to Rainier III, Prince of Monaco. Grace grew up in Philadelphia before moving to New York City and starring in a string of early 1950's box office hits. Her son, Prince Albert, just purchased Grace's childhood home.
"Brad & Angelina Home News"
Brad Pitt & Angelina Jolie are selling their 1,200-acre home/vineyard in Correns, France. It is the home they bought in 2012 for $60 million and were married in 2014.
"The Clooneys' New Apartment"
George and Amal Clooney are buying an apartment in Midtown Manhattan, near the United Nations. The building is under construction with expected completion in 2017.
"Cities Too Expensive To Buy a Home"
While home prices have increased tremendously in some American cities making a home purchase out of reach for many people, the situation is even worse in Vancouver where the average single-family home is $1.21 million.
"Expensive New Palm Beach Homes"
Although Beverly Hills and the Hamptons get lots of publicity for their expensive homes, Palm Beach, Florida prices are often in the same stratosphere. Four recent sales of new Palm Beach homes range from $31.4 to $43.7 million.
"Robin Williams Mrs Doubtfire Home For Sale"
The San Francisco home that was seen in the Robin Williams movie Mrs Doubtfire is for sale at $4.5 million. The Victorian-style home was built in 1893.
Visit TopTenRealEstateDeals.com for more celebrity homes and real estate news.