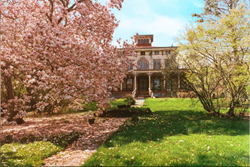 Pompano Beach, Florida (PRWEB) March 03, 2015
Recent important, interesting and unusual real estate news from U.S. and world media now at Top 10 News Headlines.
"Miley's SoCal Home Asks $6 Million"
Miley Cyrus is asking $5.995 million for her former Toluca Lake family home. The Cyrus family bought the home in 2007 because it was an easy commute to the Disney studios for Billy and Miley.
"New York's Fashionable Haunted Mansion"
A Staten Island mansion is a favorite for fashion magazines. Some say it is haunted. Now for sale for $2 million.
"Miami Beach Luxury Home Prices Skyrocket"
Luxury Miami Beach condo and home prices increased 66 percent in the last year to an average of $8.3 million.
"Home Prices Up But Sales Retreat"
Home prices in December increased 4.5 percent compared to 2013. The number of homes on the market dropped to just 4.4 months. Home prices have cooled since the double-digit increases of 2013-14.
"New Homes Are Shrinking"
According to the U.S. Commerce Department, the size of new homes decreased 106 square feet in 2014. The median size of a new home at the end of 2014 was 2,385 square feet.
"Joan Rivers New York Penthouse"
The estate of Joan Rivers is selling her Manhattan penthouse with ballroom and lots of glitz asking $28 million.
"Ghost Town Real Estate Mistakes"
An abandoned water park, Holy Land theme park murder site and an Israeli strip joint are now abandoned real estate mistakes.
"The Real Rob Lowe's $42 Million Estate"
Rob Lowe is selling his Montecito, California home asking $42 million.
"Manhattan Condo Prices 10-Year Surge"
While most cities are still struggling to reach their 2006 peak home prices, Manhattan condo prices are up an average of 40% since 2005.
"Las Vegas Mob Boss Home For Sale"
The Las Vegas home of mob boss, Frank "Lefty" Rosenthal, who inspired the Robert De Niro character, Sam Rothstein, in "Casino" is for sale asking $777,000.
"Standard & Poor's Mansion"
The Tuxedo Park, New York mansion that was built in the late 1800s for Standard & Poor co-founder, William Poor, is for sale asking $9.999 million.
"Buy a Condo – Get a Tesla"
A Florida condo development is giving away a Tesla with the purchase of a home.
"McMansions Are Big"
Used McMansions are selling well. Home sales priced in the $750,000 to $1 million range are up 13 % in the last year.
Visit TopTenRealEstateDeals.com for more spectacular homes and real estate news.