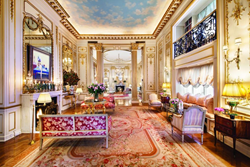 Pompano Beach, Florida (PRWEB) March 11, 2015
Joan Rivers' glitzy New York City penthouse is for sale and featured this week at TopTenRealEstateDeals.com.
"Joan Rivers' Manhattan Penthouse"
One of the world's most popular comedians since the 1960s, Joan Rivers was known for her in-your-face, politically incorrect stand up performances and off-the-cuff humor that kept her fans laughing and sometimes even made national headlines.
Born Joan Alexandra Molinsky in 1933 to a Brooklyn doctor and his wife, Joan attended Barnard College where she studied performing arts and anthropology. After college, she worked in the fashion industry and as a Rockefeller Center tour guide but soon left to try acting. Her biggest role was a six-week performance in the late 1950s with an unknown Barbra Streisand. When acting didn't work out, Joan switched to comedy. She made the usual New York comedy night club rounds, appeared on "Candid Camera," "The Ed Sullivan Show" and Jack Paar's "Tonight Show." She eventually signed on as a writer for Johnny Carson's "Tonight Show" which led to her big break when Johnny let her perform and later guest host the show. Carson took her under his wing but the relationship went sour in 1986 when Fox offered her "The Late Show Starring Joan Rivers," a time slot that competed with Johnny. Her new show lasted just a few months and Carson never spoke to her again. Joan moved back to New York and hosted a daytime talk show "The Joan Rivers Show" from 1989 to 1993 where she won a Daytime Emmy for Outstanding Talk Show Host.
Author of 12 books, joke and comedy script writer, film director and actress in 27 films, jewelry designer and with a host of other business pursuits, Joan's life was as fast as her one-liners, spanning a prolific 55-year career. At the time of her death from throat surgery complications in 2014, Joan was the host of the "Fashion Police," one of cable television's biggest hits that poked fun and occasional praise for celebrities' fashion picks at red carpet events.
Joan's estate, managed by her daughter Melissa, is now selling her Manhattan penthouse where she lived for 25 years. The turn-of-the-19th-century boutique condo, just off of Fifth Avenue, was initially a Gilded Age mansion that was converted in 1930 into an exclusive condo building of only nine units. The four bedroom home has large entertaining spaces with a ballroom, music room, antique columns and several rooms with 23-foot ceilings. In Joan's lavish style, the decorating is over-the-top just like Joan herself, who used to enjoy saying, "It's what Marie Antoinette would have done, if she had money." It is one of New York's most expensive listings asking $28 million. The listing agent is Leighton Candler of Corcoran Group Real Estate in New York City.
Visit TopTenRealEstateDeals.com for more celebrity, historic, famous and spectacular homes.