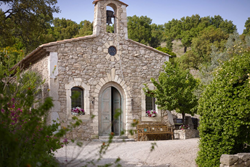 Pompano Beach, Florida (PRWEB) July 02, 2015
The French village compound of 12 buildings near St. Tropez that Johnny Depp purchased in 2001 is for sale at $25.76 million and featured this week at TopTenRealEstateDeals.com.
"Johnny Depp's French Village"
It's been a long, determined path from 15-year-old rock guitarist to teen idol of the 1980s to his part in "21 Jump Street" and finally to the 52-year-old critically acclaimed actor, producer and musician that he is today. Johnny Depp started out in film in "Platoon" in 1986 and on to the role of Edward in "Edward Scissorhands" in 1990 and the "Pirates of the Caribbean" films which were a huge commercial success grossing over $3 billion. Not surprisingly, he is in the process of filming the next in the "Pirates" series, "Pirates of the Caribbean: Dead Men Tell No Lies," being shot in Australia with a release date of 2017. His long list of films have grossed over $3.1 billion in the United States and over $7.6 billion worldwide. Depp is one of the highest paid actors in Hollywood and will earn about $90 million for the role in his new "Pirates" movie. He has been nominated for three Academy Awards, has won the Golden Globe Award for Best Actor, and the Screen Actors Guild Award for Outstanding Performance.
Depp's personal life has been as equal in scope as his professional life. Starting in the early 1980s with a short two-year marriage, he has been engaged to Jennifer Grey, Sherilyn Fenn, Winona Ryder and Kate Moss. He had a 14-year relationship with French actress and singer, Vanessa Paradis, that ended in 2012. They have two children together, Lily-Rose Melody, now a model, and son Jack. He met Amber Heard in 2012 and they were married earlier this year on his own island in the Bahamas. Shortly after the marriage to Amber, Depp put the French estate he had shared with Vanessa and the children on the market.
In 2001, Depp bought an entire French village 17 miles north of St. Tropez. The original 12 structures were built in the 1800s and cover 37 acres near the village of Plan-de-La-Tour. He spent millions renovating the buildings over a period of 15 years. With approximately 10,760 square feet of living space, the property includes vineyards, olive trees, fountains, more than 12 bedrooms and 12 bathrooms, a main house, several guest cottages, a chapel, a bar and restaurant, a workshop/garage and a staff house. There is a pirate-themed wine cellar, a skateboard park and two swimming pools. Most of the furniture and Depp's personal items are included in the sale. Unlike most wealthy celebrities who bring in decorators and architects, Depp decorated each building himself.
Johnny Depp's private ancient stone village in the South of France, restored and updated over 15 years, is now for sale. Priced at $25.76 million. The listing agent is Alexander Kraft of Sotheby's International Realty in Cannes, France.
Visit TopTenRealEstateDeals.com for more celebrity, historic, famous and spectacular homes.