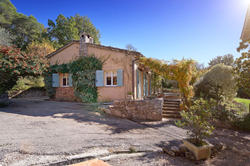 Pompano Beach, Florida (PRWEB) December 09, 2015
According to the real estate website TopTenRealEstateDeals.com, Julia Child's South of France dream home is for sale and featured this week at the website's Hot Home News.
"Julia Child's French Vacation Home"
Thanks to Julia Child's husband, Paul Child, who introduced her to her first French meal in Rouen, France at the end of the 1940s, Julia was hooked on French cooking. She later described that experience many times as "an opening up of the soul and spirit for me." Paul was stationed in Paris with the U.S. Information Agency and Julia enrolled in Le Cordon Bleu. In 1949, she joined the women's cooking club Le Cercle des Gourmettes where she met two women who would become her future collaborators introducing French cooking to Americans. They were Simca Beck and Louisette Bertholle. Together, the three opened a small cooking school in 1951 in Julia's Paris kitchen and later co-authored "Mastering the Art of French Cooking" in 1961 and worked together on the sequels.
For the next ten years, Julia and Paul moved from country to country with Paul's job, finally ending up in Cambridge, Massachusetts. The three women continued to collaborate on cookbooks from wherever Julia was living. In Cambridge, Paul designed Julia's kitchen with her input. Being a tall woman at 6'2", the counters were raised to a height that was comfortable and the kitchen was large enough to position three permanent cameras so her newly contracted television shows could be filmed from there. By now America's foremost authority on French cuisine, Julia was writing magazine articles and a regular column in "The Boston Globe." Over her career, she wrote and published over twenty books.
Julia and her television programs became an institution in the culinary world, instrumental in encouraging American women to be creative and have fun in the kitchen. She was admired for being herself, sometimes a little awkward and some wondered if not a bit tipsy from sipping the wine that was an ingredient for many of her recipes. Her cheerfulness permeated the room and television screens across the country.
Julia and Paul built their French villa in the South of France on land they leased from her friend and business partner, Simca Beck. They built a cottage designed to be as maintenance free as possible, with four bedrooms, four baths and open floor plan living and dining. The kitchen, which Paul also designed, is a smaller replica of their kitchen in Cambridge, which is now in the Smithsonian. They named the house La Pitchoune, or "The Little Thing." The setting was on a half acre of land on a hillside outside the small Provençal village of Plascassier.
Julia Child's French cottage in the hills above the Côte d'Azur is for sale priced at € 800,000 - about $870,000 USD. The listing agent is Peter Illovsky of Côte d'Azur Sotheby's International Realty in Cannes, France.
Visit TopTenRealEstateDeals.com for more spectacular homes and real estate news.