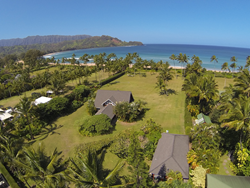 Pompano Beach, Florida (PRWEB) April 22, 2015
Julia Roberts' Hawaii beach house built in 1915 and relocated by a tidal wave in 1957 is for sale and featured this week at TopTenRealEstateDeals.com.
"Julia Roberts' Hawaii Home"
Oscar winning Julia Roberts was literally born into acting. Her parents were both actors who founded the Atlanta Actors and Writers Workshop. While she was pregnant with Julia, her mother was teaching a children's acting class and her father was the acting coach for Martin Luther King's daughter, Yolanda. Not surprisingly, all three of the Roberts' children turned out to be actors. Both her brother, Eric, and her sister, Lisa, have had parts in several of Julia's films. Julia's big opportunity came in 1990 when she was chosen for the lead in "Pretty Woman" after the role had been turned down by Meg Ryan, Daryl Hannah, Molly Ringwald, Jennifer Jason Leigh, Karen Allen and Michelle Pfeiffer. Although she was only paid $300,000 for her lady of the night role, the film grossed over $465 million. By 2003, Julia was making $25 million for her starring role in "Mona Lisa Smile."
As many Hollywood stars are doing, Julia invests in real estate including a solar-powered oceanfront beach house in Malibu, a New York apartment, and the main family home in Taos, New Mexico - a 32-acre ranch that she bought from former Secretary of Defense Donald Rumsfeld. Julia is a proponent for green living and has maximized this approach wherever possible, even to the Prius she drives. Accordingly, she has displayed her sensitivity toward Hawaiian history by preserving the home she purchased in 2011 on Hanalei Bay on the island of Kauai. Instead of tearing down the historic structure to build one more mega mansion, she instead honored the property's sugar plantation history by restoring the 1915 beach home of sugar plantation manager, H.P. Fayé.
Hans Peter Fayé immigrated from Norway to Kauai in 1880 at the age of 21 to work on his uncle's sugar plantation. By 1916 and with a family of eight children, he was successful enough to establish a family vacation retreat. He picked beachfront lots in the center of Hanalei Bay and proceeded to build a family retreat and a small house for the servants they would bring with them. Originally, the main house was close to the beach, but a tidal wave in 1957 pushed the entire house back to the center of the property. The top floor was still sound, so they jacked it up and built a new, redesigned first floor more in keeping with the style of the late 1950s. What had been the garage was rebuilt into a guesthouse with wood salvaged from the tidal wave damage. The home was a vacation getaway for generations of Fayés until they sold it to Roberts in 2011.
Currently the only beachfront property for sale on Hanalei Bay, the property consist of 3,792 square feet with seven bedrooms and four bathrooms on two acres with 200 feet of beach. Priced at $29.85 million, the listing agent is Neal Norman of Hawaii Life Real Estate.
Visit TopTenRealEstateDeals.com for more celebrity, historic, famous and spectacular homes.