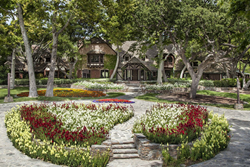 Pompano Beach, Florida (PRWEB) June 10, 2015
Michael Jackson's fantasy home, Neverland Ranch, is for sale at $100 million and featured this week at TopTenRealEstateDeals.com.
"Michael Jackson's Neverland Ranch"
The King of Pop wasn't just a singer, songwriter, actor, record producer and dancer, he was an institution who achieved legendary status during his lifetime. He was inducted into the Rock and Roll Hall of Fame twice, the Songwriters Hall of Fame and the Dance Hall of Fame. Michael Jackson won over 100 professional achievement awards - the most awarded recording artist in the history of popular music. Since his death in 2009, the Jackson estate has grossed over $700 million from Michael's music and videos with a well-engineered road map to keep it going.
When he was alive, Michael was well known for his vast collection of artifacts including a gilded red throne, a fleet of Rolls Royces, the Beatles music catalog, and his long-time Southern California home named after the fantasy island in "Peter Pan." Michael Jackson's Neverland is now for sale.
Michael bought the 2,698-acre ranch near Santa Ynez in 1988 for about $18 million. He installed a Ferris wheel, a carousel, two trains, bumper cars and his own zoo in which resided four giraffes, two tigers, orangutans, reptiles, an elephant, exotic birds and his chimp, Bubbles. The ranch also had a separate movie theater, a petting zoo and a real life fire station. There were 40 security guards that patrolled the grounds around the clock. Now refurbished and reverting back to its original name, Sycamore Valley Ranch, the animals and carnival equipment are gone.
The main house at 12,000 square feet has rooms of large scale containing formal rooms, fireplaces, a comfortable but commercially functioning eat-in kitchen, hardwood floors from an 18th century French villa, six bedrooms including a master suite complex on two levels with fireplace in sitting room, two large baths and cedar walk-in closets, one with a hidden safe room. There is a four-bedroom guesthouse, a two-bedroom guesthouse, a natural looking free-form swimming pool, large covered barbecue area, basketball court, tennis court, 50-seat movie theater with private balcony and a stage and a four-acre lake with waterfall. Long distance views include meadows and mountains and Michael's flowerbed clock is still at the walkway entrance. There are numerous structures on the property including several barns, animal shelter facilities, corrals and a maintenance shop.
Sycamore Valley Ranch, formerly Michael Jackson's estate, now restyled back to the home built and designed in 1982 is for sale at $100 million. The listing agent is Suzanne Perkins of Sotheby's International Realty in Montecito, California.
Visit TopTenRealEstateDeals.com for more celebrity, historic, famous and spectacular homes.